Nationally Sought Motivational Speaker and Author Challenge Professionals to Achieve Personal Career Empowerment
ST. LOUIS --- Kerri Gwinn Harris, founder/chief executive officer of KGHarris & Associates, LLC premiere training and development consulting firm empowers corporate and organizational audiences through highly inspirational Keys To The Executive Suite© professional keynote presentations.
An experienced orator, popular columnist, and highly sought guest contributor on the topics of career empowerment, workforce diversity, and the professional development of minorities and women within organizations, Ms. Gwinn Harris challenges audiences to live beyond the limits they have created within their professional career practice.
In addition, Ms. Gwinn Harris has penned proven strategies for achieving professional success through her highly inspirational and motivational book, Keys to the Executive Suite: The Quintessential Guide to Personal Career Empowerment© published by Author House for spring 2008 release.
A partial listing of Ms. Gwinn Harris' Keys to the Executive Suite© professional keynote presentations include:
• Accessing your Keys To The Executive Suite©
• Capturing the Corporate Culture©
• At The Table: Knowing and Negotiating your Worth©
• Making The Net Work: Building Internal Linkages©
• Managing Unmanageable Moments©
• Human Relations Building: Doing No Harm©
• Jump Starting Your Promotion: Removing Adhesive from the Sticky Floor©
• Stuck in Middle Management: Shattering the Glass Ceiling©
To book Ms. Gwinn Harris for corporate/organizational speaking engagements, as a diversity expert contributor on television/radio or to schedule KEYS TO THE EXECUTIVE SUITE: THE QUINTESSENTIAL GUIDE TO PERSONAL CAREER EMPOWERMENT© readings or a book signing, contact Al Benson of KGHarris & Associates, LLC at 1-888-559-2537.
About Kerri Gwinn Harris
Kerri Gwinn Harris MM, a veteran professional has held progressive educational leadership positions throughout the United States and now serves as chief executive officer of KGHarris & Associates, LLC.
Kerri holds earned Bachelor of Liberal Arts and Master of Science in Management degrees from Fontbonne University, and currently pursuing a PhD in Organizational Development with an emphasis in Leadership.
An active Women's Ministry Speaker, Kerri is a member of Alpha Kappa Alpha Sorority Incorporated, National Council of Negro Women, while lending her talents and gifts to deserving organizations including: Democratic Party, United Way of Greater St. Louis (UWGSL), UWGSL Charmaine Chapman Society, UWGSL Women's Initiative, and Forest Park Forever. In addition, Kerri serves on the board of Covenant House of Missouri and the Fontbonne University Council of Regents.
Kerri is a proud American, avid reader, and fan of intelligent and "informational" news shows, Jeopardy enthusiast, trivia addict, life-long learner, and a self-proclaimed PBS groupie. A fifth generation Missourian Kerri is pleased to once again reside in her native Saint Louis, MO.
Contact: Al Benson
KGHarris & Associates LLC
231 South Bemiston, Suite 800 Clayton, MO 63105
PHONE: 1-888-559-2537
FAX: 314-667-3171
EMAIL: al_benson@keysguidetojobs.net
URL:
http:///www.keysguidetojobs.net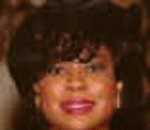 Posted By: Kerri Gwinn Harris
Sunday, March 9th 2008 at 11:15AM
You can also
click here to view all posts by this author...