Author and columnist Makeisha Lee exposes the truth about the vicious African American weight loss cycle.
Columbus, OH (BlackNews.com) – There is a national epidemic of obesity, but research shows that the African American community has the worst track record. According to the Center for Disease Control (CDC), 52% of Black women and about 30% of Black men are obese. This is the highest amongst all ethnic groups.
Makeisha Lee, an African American alternative health expert, is on a mission to change these horrific statistics. As monumental as it is, she has decided to take on the responsibility of repairing the physical and mental sickness that exists within urban communities when it comes to health.
Best known as a health columnist and nutritional advisor, Lee has recently authored a new book entitled Why Black People Can't Lose Weight: The Psychology, The Challenge, and The Solution To Overall Wellness. The book addresses common lies and misconceptions about diet schemes, and also uncovers the psychology behind why Blacks fall victim to these.
Lee authored her book with a Bill Cosby style of writing; she cuts no corners and does not hesitate to expose the dirty laundry when it's necessary to do so.
"African Americans are the smartest and most talented people in the world, but we are also the most laziest when it comes to our health. Due to obesity-related illnesses and unhealthy lifestyles, we have unnecessarily lost thousands of lives including notables such as Gerald Levert, Luther Vandross, Yolanda King, and James Brown," Lee comments.
She continues, "We need to re-engineer the way we think, the way we live, and how we handle life's stresses. There is a way to accomplish this, and it's not very complicated."
Why Black People Can't Lose Weight is an extremely controversial book because it sidesteps the nonsense that is taught to people about weight loss pills, weight loss surgeries and other diet scams. Independent thinkers will be enlightened by the content of the book, as it also delves into how the U.S. government is involved with suppression of proper health education.
Interested ones can obtain the book through AuthorHouse.com, Amazon.com, BarnesandNoble.com or WhyBlackPeopleCantLoseWeight.com
CONTACT:
Makeisha Lee
614-595-1425
znck04@yahoo.com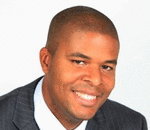 Posted By: Dante Lee
Wednesday, November 28th 2007 at 11:52PM
You can also
click here to view all posts by this author...