What is it going to take for the Black Community to take back its children, families, finances and HAPPINESS???? That is the question I pose. We spend 97% of our money with other communities, ensuring their prosperity and yet we still look to the government to assist us with taking care of our loved ones. THAT IS OUR RESPONSIBILITY. If someone asked you today, what have you done to help a neighbor lately? What would be your answer?
I am on a crusade to save as many BLACK SOULS as GOD will allow me to. We need to first start taking care of our own. Look into the following link and tell me what you think?
http://nbbta.org/pc1630.htm
FIRST STEP: RECYCLE BLACK DOLLARS
SECOND STEP: PUT THOSE DOLLARS BACK INTO OUR CHURCHES and SCHOOLS.
Without educating our youth and putting them in direct contact with GOD, we are not just loosing the next generation but EVERY GENERATION THEREAFTER.
food for thought.
Love My People-cw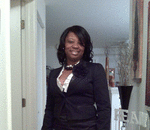 Posted By: Chiezda Washington
Thursday, September 27th 2007 at 12:46PM
You can also
click here to view all posts by this author...