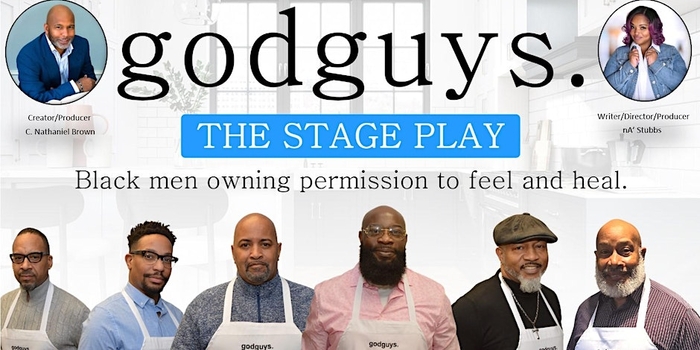 god guys: The Stage Play is returning to Atlanta this June for Father's Day Weekend and the producers at uNiqu` Arts wants everyone to come out and experience this powerful message of healing.
Community Theater's impact on the Arts and stage plays have long since been the real essence of what theater arts is about. What Off-Broadway shows have done for Broadway, or independent films have done for Hollywood film releases, the lines of commercialism give way to productions that are windows into our souls and about life's journey.
Community theater has also brought us some of our most iconic actors and writers in film and television history such as Denzel Washington, Samuel L. Jackson, August Wilson, Lorraine Hansberry, Viola Davis, Phylicia Rashad and Debbie Allen, to name just a few.
It is in that spirit that nA' Stubbs and her uNiqu` Arts entertainment and production company based in Pittsburgh, PA. (home of the late August Wilson), have assembled a body of talented poets, writers, actors, vocalists, dancers, and filmmakers to continue the tradition and elevate the impact of what theater and films possess in telling our stories.
This is the case with the encore stage play "godguys" for which nA' Stubbs serves as writer, director and co-producer, alongside the visionary and co-producer C. Nathaniel Brown of Expected End Entertainment. The production is about "Black men owning permission to feel and heal."
"god guys: The Stage Play" was so successful when it first played in Atlanta, GA. in 2022 that it is returning by popular demand this Father's Day weekend, June 17th and 18th, 2023.
nA' Stubbs and C. Nathaniel Brown, along with their team, wants everyone who did not get a chance to see the play to come out and experience this powerful message of healing.
I caught up with nA' recently to talk about the play, her career, and the goals she has for her production company.
To see more on this article, please go to:
http://hub.me/apTPq
And for Tickets for the show:
https://www.eventbrite.com/e/godguys-the-s...
Posted By: Robert Walker
Wednesday, May 10th 2023 at 3:27PM
You can also
click here to view all posts by this author...