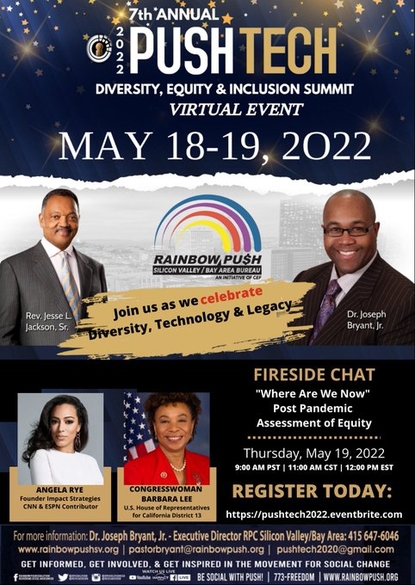 For Immediate Release Rev. Jessie Jackson, Sr.!
YOU ARE INVITED TO ATTEND VIRTUAL PROGRAM OVERVIEW
OVERVIEW:
Building on the 7 years of emphasis in the world of technology, this year's Summit will broaden and expand its scope of impact to include numerous Diversity and Inclusion leaders and influencers in various high-profile roles from various companies across the spectrum of corporate America, business industries and Community platforms. The event will also feature and acknowledge a wide array of companies who over the past year have made significant inroads and expansion in the areas of Diversity, Equity & Inclusion Programming and Opportunities. We will also highlight the amazing vision of our leader Rev. Jesse L. Jackson whose trailblazing foresight gave birth to PUSHTECH, FAITHTECH and SPORTSTECH, all of which prepared us to thrive and survive in the unexpected shift to what is our NEW & NOW NORMAL Virtual World.
RAINBOW PUSH
SILICON VALLEY / BAY AREA BUREAU
AN INITIATIVE OF CEF
SAVE THE DATE
FEATURING:
Rev. Jesse L. Jackson Sr.
Dr. Joseph Bryant, Jr.
Wednesday May 18, 2022 4:00pm PDT/ 6:00pm CT/7:00pm EDT)
OPENING NIGHT: "Keep Hope Alive" Celebration Featuring Tribute, Music & Celebrity Guests
-------------------------------------------------------------------------------
Thursday May 19, 2022 (9:00am PDT/11:00am CT/12:00pm EDT)
CONFERENCE DAY:
Diversity in Tech
Women in Leadership
Virtual Reality Demos & Engaging the Metaverse
Digital Training for Minority & Small Businesses
Faith & Technology
Cryptocurrency & Bitcoin
NFT's & NIL
AND MUCH MORE
For more information: Dr. Joseph Bryant Jr, Executive Director RPC Silicon Valley/Bay Area: 415 647-6046
REGISTER HERE TODAY!:
https://www.eventbrite.com/e/2022-pushtech...
and
www.rainbowpushsv.org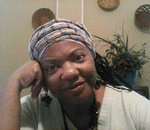 Posted By: agnes levine
Friday, April 29th 2022 at 12:28PM
You can also
click here to view all posts by this author...