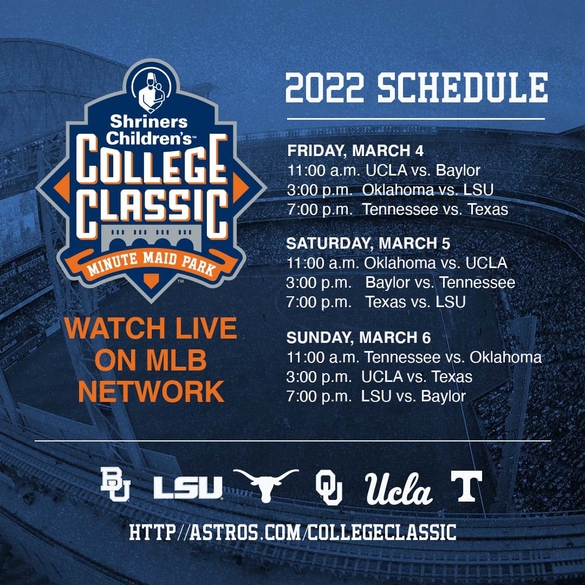 For Immediate Release From Shriners Children's Hospital!
HOUSTON, Texas (KTRK) -- Due to the Major League Baseball lockout, the Astros will not play at Minute Maid Park any time soon. However, some of the best college baseball teams will take over the Astros' home field this weekend.
The 2022 Shriners Children's College Classic features a star-studded field in Baylor, LSU, Oklahoma, Tennessee, Texas and UCLA. Per Collegiate Baseball Newspaper, four of the participating teams are ranked: Texas (#1), LSU (#3), Tennessee (#6) and UCLA (#27).
The University of Texas entered the year as the preseason No. 1 team in the country and has gone on to post a 9-0 record thus far in 2022, while outscoring their opponents 72-10. Incredibly, this marks the eighth time in Shriners Children's College Classic history that the tournament will host the preseason No. 1 team in the country.
UT's head coach, David Pierce, is no stranger to our city. He's a Houston native who coached both high school and college ball in H-town. In advance of UT's three-game weekend, ABC13's Adam Winkler chatted 1-on-1 with Coach Pierce.
"It's the greatest game on dirt, I promise you," Pierce said of the opportunity for fans to see top-notch college baseball this weekend. "We have a blast. Omaha is special, but this venue combined with a group of teams that are going to play at an elite level - you're going to be a fan when you leave."
The 2022 tournament marks the seventh year for it to carry the name Shriners Children's College Classic, which has been set forth by a multi-year naming rights agreement between the Astros Foundation and Shriners Children's. The Astros Foundation operates the tournament and will donate a portion of each ticket sale directly to Shriners Children's as well as provide other fundraising and awareness opportunities.
"When the Shriners Hospital took over it took the tournament to another level," Pierce noted. "It wasn't just about baseball - it was about giving back and helping others and putting others ahead of yourself."
The Shriners Children's College Classic begins Friday at 11:05 a.m. The schedule is below.
Friday, March 4:
UCLA vs. Baylor at 11:05 a.m.
Oklahoma vs. LSU at 3:05 p.m.
Tennessee vs. Texas at 7:05 p.m.
Saturday, March 5
Oklahoma vs. UCLA at 11:05 a.m.
Baylor vs. Tennessee at 3:05 p.m.
Texas vs. LSU at 7:05 p.m.
Sunday, March 6
Tennessee vs. Oklahoma at 11:05 a.m.
UCLA vs. Texas at 3:05 p.m.
LSU vs. Baylor at 7:05 p.m.
For more sports news, follow Adam Winkler on Facebook, Twitter and Instagram.
********
The 22nd Annual Shriners Children's College Classic returns to Minute Maid Park from March 4-6, 2022. Baylor University, the University of Texas, Louisiana State University, University of Oklahoma, the University of California – Los Angeles, and the University of Tennessee will take the field for the nine-game tournament.
General Admission: Patrons with General Admission tickets can sit anywhere in the Lower Level, from Sections 100-111 and Sections 127-134 for all three games on the tournament day purchased.
Dugout Reserved: Section 112-126 is a reserved seating area. Patrons with tickets in the Dugout will be able to sit in the same reserved seats for all three games on the tournament day purchased.
Club Level Reserved: Sections 214-224 is a reserved seating area that will be available for the 7:00pm game on March 5th only. Patrons with tickets on the Club Level will be able to access the Club level starting at 6:00pm on Saturday March 5th. Prior to 6:00pm, patrons may sit in the GA seating areas in sections 100-111 and 127-134. Please note, limited concessions options will be available on the Club level.
Learn more HERE!:
https://www.mlb.com/astros/tickets/college...
AND
For anyone aiming to catch some of college baseball's top talents in one place, the Shriners Children's College Classic has you covered this weekend. According to Collegiate Baseball Newspaper rankings, the tournament will host top ranked Texas, No. 3 LSU, No. 6 Tennessee, No. 27 UCLA, Baylor and Oklahoma at Minute Maid Park for nine games across three days.
https://www.mlb.com/astros/news/watch-shri...
********
At Shriners Hospitals for Children – Boston child life specialists are part of the multidisciplinary team providing patients with the best, most comfortable care possible. We sat down with Hillary Smith, senior child life specialist at the Boston Shriners Hospital, to learn a little bit about what a child life specialist does. While it may all seem like fun and games (and it is!) our specialists use play to help patients recover and to reach important therapeutic goals. Child life is a special department and not every pediatric hospital is lucky enough to have these talented professionals on staff to help patients and families find tiny moments of laughter and joy during otherwise very difficult days.
Read and learn more HERE!:
https://www.shrinerschildrens.org/en/news-...
********
Mejorar la calidad de vida de niños de 0 a 18 años con padecimientos ortopédicos y secuelas por quemaduras, sin costo para el paciente y la familia, es parte de la gran misión de los Hospitales Shriners para Niños.
Read and learn more HERE!:
https://twitter.com/ShrinersMEX
DID YOU KNOW
Research and #data sharing today by @shrinershosp locations and #georgiatech to help physicians and clinicians everywhere improve #treatment for children with #orthopedic #craniofacial #spine and #spinalcord conditions. #drphilipgates #shreveport #StateofResearch? VISIT:
https://twitter.com/shrinershosp
and have a great weekend!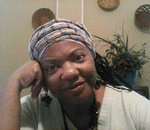 Posted By: agnes levine
Friday, March 4th 2022 at 6:24PM
You can also
click here to view all posts by this author...