Oscar award winning actress actress Halle Berry made her directorial debut at AFI FEST with the world premiere of "BRUISED" which she also starred in and gave a remarkable performance as a down on her luck UFC fighter. There wasn't a dry eye in the TCL theater where the premiere took place. Scores of journalists representing a myriad of outlets could not take their eyes off the screen and hung on every line uttered from every actor in the film. The Q&A moderated by multi award winning director Ava Duvernay gave Halle the opportunity to discuss the rewards and challenges of directing and starring in a film that will undoubtedly touch the hearts of many. Halle discussed the importance of equity in storytelling and the importance of Hollywood creating spaces for women lead projects. Throughout her career Halle has given a voice to the voiceless by partnering with the Jenese Center to provide support for women and children who are victims of domestic violence. It was not a surprise to see Halle supporting black journalists who attended the premiere and the after party held at Hollywood's Thompson Hotel. Halle Berry waa seen holding court with several black journalists including Tanisha LaVerne Grant of BLACK IN AMERICA, Fahnia Harris of EUR WEB, Jamal Finkley of BLACK TREE TV, and Wilson Morales of BLACK FILM. Halle is setting the example of diversity and inclusion in Hollywood. It has long been difficult for most members of black media to obtain access to cover large tentpole activations like the BRUISED premiere. Black journalists are often left out of the conversation when publicists are looking to secure journalists to cover exclusive red carpets and press junkets. Bravo to Halle Berry for acknowledging all members of the media.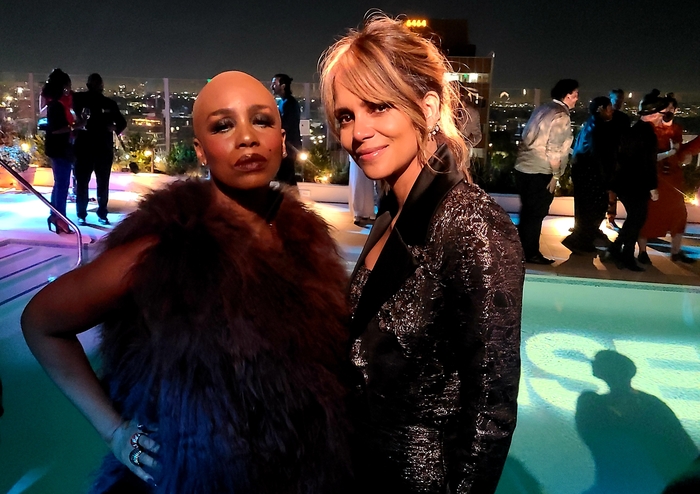 Posted By: Tanisha Grant
Monday, November 15th 2021 at 12:54AM
You can also
click here to view all posts by this author...