Home > Blogs > Post Content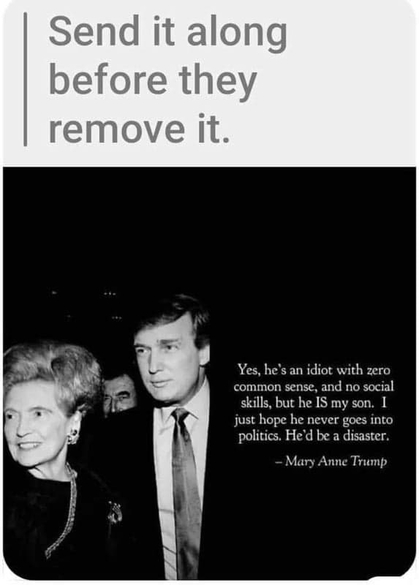 /*
...Herein, is a post that was forwarded to me via 'FaceBook!'
The Master Idiot - A Disaster!
"Yeah, he's my son...an idiot with zero common sense, and no social skills, but he is my son. I just hope he never goes into politics. He'd be a disaster!
~ Mary Ann Trump ~
#FaceBook #Twitter
*/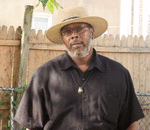 Posted By: Gregory V. Boulware, Esq.
Sunday, March 29th 2020 at 10:42PM
You can also
click here to view all posts by this author...
Now this is mothers love.


Sunday, March 29th 2020 at 10:51PM
Deacon Ron Gray

~ "The Master Idiot - A Disaster!"

SUBJECT

mommy dearest....knows best...she and KKK COLORED'whiteSupremist' Life Mate...

Produced an idiot....an idiot is developed by an idiot

....a n IGGA is developed by a n IGGA

http://blackinamerica.com/content/328058/c...


Monday, March 30th 2020 at 8:28AM
robert powell
/*

What to Know About Mary L. Trump, Donald Trump's Niece and Author of 'Too Much and Never Enough'
"When Donald Trump moved into the White House, more than a few of his family members stepped into the spotlight alongside him. It seems not a day goes by that the public doesn't hear about a Trump kid's exploits, whether it be Ivanka's poorly-timed Instagram posts or Don Jr.'s right-wing pronouncements; even lesser-known figures, like Donald's sister Maryanne Trump Barry, have found themselves under renewed scrutiny.

But until very recently, the President's niece, Mary Trump, had been hardly heard from at all. With the news of her forthcoming book about Donald Trump, that's about to change. Here, what you should know about Mary Lea Trump.

She's the daughter of Fred Trump Jr., Donald's older brother.

Unlike some other members of her family, Mary has chosen to live largely under the radar. Not much is known about her personal life, other than that the 55-year-old lives with her daughter in New York, and is an expert in psychology. Mary holds a master's degree in literature from Columbia University and a doctorate in psychology from Adelphi University, per CNN; according to her biography on the Simon & Schuster website, she's taught courses in trauma, psychopathology, and developmental psychology.
...Mary publicly slammed her extended family about the way Fred Trump Sr.'s estate was handled after his death in 1999...

Per the Daily Beast, Mary also reveals in Too Much and Never Enough that she was a primary source for the New York Times's landmark investigation into Donald Trump's taxes.

Recently, Donald Trump told Axios that Mary is "not allowed to write a book" because she had signed a non-disclosure agreement in 2001, following the dispute over Fred Sr.'s estate. Trump's statements to Axios confirmed a separate Daily Beast article, which reported Mary's NDA. Neither Mary Trump nor Simon & Schuster have commented on these recent reports.
https://www.yahoo.com/lifestyle/know-mary-...

*/


Thursday, June 25th 2020 at 12:48PM
Gregory V. Boulware, Esq.
Blogs Home