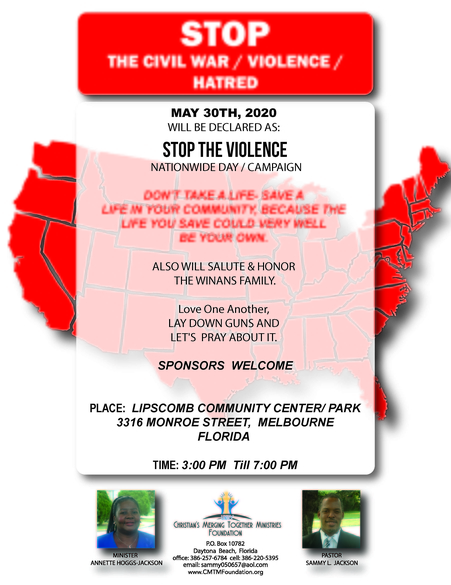 On May 30 TH,2020 we're asking others to join us by wearing a tee-shirt of some one killed on our streets natiowide. They cannot talk for themselves, but we can talk for them, represent them on May 30 TH,2020. Also you email their pictures to STOP THE VIOLENCE NATIONWIDE DAY CAMPAIGN too many of our young people are going early to their graves before there time natiowide. It's time to put on our Boots and hit our STREETS And fight Against domestic violence and gun violence natiowide Together across America.
CMTM FOUNDATION CAMPAIGN,
P.O. BOX. 10782
DAYTONA BEACH FLORIDA 32120
EMAIL sammy050657@aol.com
Posted By: Min Sammy Jackson
Tuesday, March 24th 2020 at 7:30PM
You can also
click here to view all posts by this author...