Synopsis
When a museum celebrating the Ku Klux Klan opens in a small South Carolina town, the idealistic Reverend Kennedy (Academy Award®-winner Forest Whitaker) resolves to do everything in his power to prevent long-simmering racial tensions from boiling over. But the members of Kennedy's congregation are shocked to discover that his plan includes sheltering Mike Burden (Garrett Hedlund), a Klansman whose relationships with both a single-mother (Andrea Riseborough) and a high-school friend (Usher Raymond) force him to re-examine his long-held beliefs. After Kennedy helps Mike leave behind his violent past, the Baptist preacher finds himself on a collision course with manipulative KKK leader Tom Griffin (Tom Wilkinson). In the face of grave threats to himself and his family, the resolute Kennedy bravely pursues a path toward peace, setting aside his own misgivings in the hopes of healing his wounded community. From Oscar®-nominated filmmaker Robbie Brenner (Dallas Buyers Club) and writer/director Andrew Heckler comes this dramatic true story of compassion and grace in the American South.
DISTRIBUTOR | 101 Studios
Cast: GARRETT HEDLUND | FOREST WHITAKER | ANDREA RISEBOROUGH | AUSTIN HÉBERT | with USHER RAYMOND IV  | and TOM WILKINSON |  
Executive Producers: GARRETT HEDLUND, FOREST WHITAKER, TOM WILKINSON, ANDREA RISEBOROUGH, GABRIELA REVILLA LUGO, JEFF KWATINETZ, KEVIN MCKEON, DAN FARAH, GARY RASKIN, CHARLES DOMBEK, ALASTAIR BURLINGHAM, JEFFREY HECKTMAN, ANNA CHI, SCOOTER BRAUN, ROBERT JONES, STEVE POTTS, JONATHAN RAE, ZACH VELLA, MICHELLE MASON,
KAILY SMITH, WAYNE MARC GODFREY,
DAVID C. GLASSER, DAVID HUTKIN,  BOB YARI  
Produced by ROBBIE BRENNER, p.g.a., JINCHENG, BILL KENWRIGHT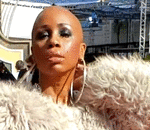 Posted By: Tanisha LaVerne Grant
Tuesday, March 3rd 2020 at 5:31AM
You can also
click here to view all posts by this author...