The outstanding achievements of Morgan State University's Clarence M. Mitchell Jr. School of Engineering (SOE) were on full display at the Reginald F. Lewis Museum of African American History and Culture in downtown Baltimore on June 22, 2019, during the 30th Anniversary Awards Gala of the National Society of Black Engineers Baltimore Metropolitan Area Chapter (NSBE–BMAC).
Eugene M. DeLoatch, Ph.D., recently retired inaugural dean of the SOE, received the chapter's Legacy Achievement Award at the event, one of three stellar honorees in that category, including inventor and professor James E. West and Earnestine Baker, executive director emerita of the Meyerhoff Scholars Program of the University of Maryland, Baltimore County. Dr. DeLoatch was recognized for his unmatched accomplishments in expanding African-American participation in his field, having been credited with producing the largest number of black engineers in the history of U.S. higher education during his 33-year tenure as dean. SOE Interim Dean Craig Scott, Ph.D., introduced Dr. DeLoatch before the awards presentation.
MSU electrical engineering senior Oyare Victor Oko was honored with NSBE–BMAC's William T. Batten Leadership Award, which provides financial support to science, technology, engineering or math (STEM) students who are serving in leadership positions in college and who exemplify NSBE's mission.
Morgan's School of Engineering is ranked fourth nationally and first in Maryland in the production of African-American bachelor's degree recipients in engineering and is a main reason why MSU has a higher percentage of STEM-employed alumni than any other college or university in Maryland. Nearly 17 percent of Morgan alumni are employed in the STEM fields, versus 11.1 percent for all Maryland colleges.
"As a proud Morganite and a product of Dr. DeLoatch's hard work, I was extremely honored to present this well-deserved award to him," said William S. Redmond III, who earned his Bachelor of Science in electrical engineering at Morgan in 2008 and served as president of NSBE–BMAC for the past two years. "This was also personal for me, because I decided to become an engineer after my 3rd grade teacher, Mrs. Terrelle Gray, took our class on a field trip to the School of Engineering at Morgan State University. From that moment, I wanted to go to Morgan and graduate as an engineer. I literally would not be where I am today had it not been for Dr. DeLoatch's vision and his realization of that vision."
https://news.morgan.edu/nsbe-gala/?utm_source=feedburner&utm_medium=email&utm_campaign=Feed%3A+msunews+%28Morgan+State+University+Newsroom%29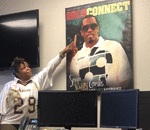 Posted By: Sister Elynor Moss
Tuesday, July 23rd 2019 at 9:59AM
You can also
click here to view all posts by this author...