The National Center for the Study of Civil Rights and African-American Culture at Alabama State University
Presents
From Montgomery to the World:
The Life and Legacy of Nat King Cole,
Legendary African-American Entertainer
Wednesday, June 19, 2019
Forum: 9 a.m. - 12 p.m.
Musical Tribute: 2:30 - 4 p.m.
Ralph David Abernathy Auditorium
In observance of Nat 'King' Cole's 100th birthday,
this program assesses Cole's personal life, multifaceted career, and behind-the scenes support of the civil rights movement.
Forum Topics
9:15 - 9:35 a.m.
"Nat King Cole and the Racial, Economic, and Cultural Ethos of Montgomery, Alabama in the Twentieth Century"
9:45 - 10:05 a.m.
"Is This the Promised Land? - The Cole Family's Migration to the North"
10:15 - 10:45 a.m.
"A Legend in the Making - The Factors Impacting Cole's Rise to Musical Fame"
10:50 - 11:20 a.m.
"Nat King Cole at the Pinnacle of Success - Cole's Radio, Television and Film Career"
11:25 - 11:55 a.m.
"You're Still a Negro - Cole and the Civil-Rights Movement"
Forum Luncheon
12:15 - 1:45 p.m.
Abernathy Hall - Great Hall of Teachers
RSVP below to reserve a seat at the luncheon.
Limited seating is available.
RSVP for LUNCHEON:
https://docs.google.com/forms/d/e/1FAIpQLSfJ45aT7oQVH4l7SkglcSFthFN2-Yi5wdu8bX5Xpmn9Vm7-Cg/viewform
Musical Tribute
2:30 - 4 p.m.
A special Nat 'King' Cole inspired musical performance by an aggregate of local and nationally-known musicians and vocalists.
For more information, call 334-229-6888.
Contact Information
The National Center for the Study of Civil Rights and African-American Culture at Alabama State University
phone: 334-229-6888
Alabama State University, P. O. Box 271, Montgomery, AL 36101-0271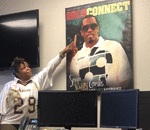 Posted By: Sister Elynor Moss
Tuesday, June 18th 2019 at 4:53PM
You can also
click here to view all posts by this author...