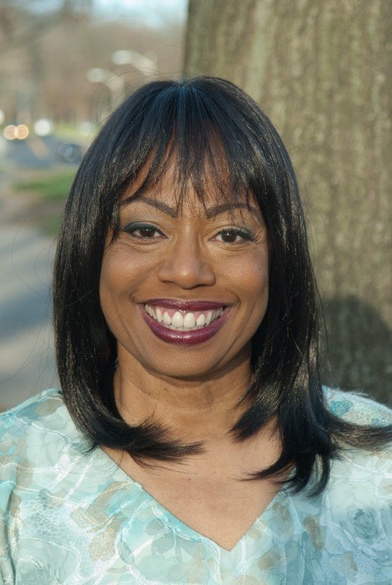 Cynthia Horner has been the force behind one of America's most endearing entertainment social media publications for more than 40 years with the iconic, Right-On! Magazine. She still has the passion for the publication of entertainment news about the artists who live our fantasies, and bring us such great art, as CEO of Right On! Digital.
The year was 1971 and the country was a buzz with the socio-economic plights of the Civil Rights movement, the Viet Nam War, Richard Nixon, and the British music invasion.
Marvin Gay's What's Going On, the Funkadelic's Maggot Brain, Sly & the Family Stone's There's A Riot Going On, and The Jackson 5's Never Can Say Goodbye, fronted by a then 11 year old Michael Jackson, were climbing the charts on Billboard's music's top 100 LP's. This would be music that would define a generation.
That same year, Right On! Magazine premiered to bring us feature stories and gossip about our favorite artists. It became a sensational hit for black teenagers and for black culture that rivaled anything it's associate magazines, like Tiger Beat magazine, did for Pop culture.
While this credit would go to the Laufer Media company, which started Tiger Beat in 1965, and for several other magazines it started, like Right On!, it was Cynthia Horner's vision as the magazine's Editorial Director that brought us our black entertainment heroes from movies and music when she joined the magazine in 1976.
For anyone who grew up in the 70's, 80's and 90's, Right On! magazine will forever be etched in our conscious minds, much like Ebony and Jet magazines, along with Soul Train on television, that shaped pop culture of the time, then and now. The magazine has even been featured in two episodes of the BET TV series, American Soul referring to a reporter having Cynthia's hairstyle.
I recently caught up with Cynthia to discuss her career and history with Right On!, then and now, and some of the wonderful charitable work she has been passionately involved with for our youth.
Q&A with Cynthia Horner
Ms. Horner, to say that you have lived a life enviable by most of us because of what you have accomplished throughout your career, would probably not come close to the truth. You have brought celebrities' lives and lifestyles into our homes and hearts now for 3 generations. I grew up learning about all of my favorite music and TV/movie stars through Right On! Magazine, and now young people are experiencing the same now through Right On! Digital /
www.rightondigital.com,
and benefitting from your tireless charitable works.
RW) Let me first say, that many of us who grew up reading teen sensation magazine, Right On, will always remember The Jackson 5 and later The Jacksons, and the entire family donning so many covers. I know that you wrote a piece last year about your friendship with Michael Jackson entitled: MY FRIENDSHIP WITH MICHAEL JACKSON: THE KING OF POP!
The recent documentary, "Leaving Neverland' has brought a lot of negative attention to Michael who is no longer here to defend himself, and who was acquitted of any wrong-doing by a court of law. What is your feeling about what is happening?
CH) I feel that itís open season on all celebrities, not just Michael Jackson. His family is livid about what is going on and we talk and try to find ways to help an entertainer who has given so much to the world and is no longer here to defend himself. I cannot comment on why some of these people are making the allegations, but the Michael Jackson that I knew was not that kind of person. I owe Michael Jackson a lot and I am not turning against him. Other people have, and thatís their prerogative but people who know me know that I am very loyal to my circle of friends and associates and I will not let them down. I do not want to see Michael Jacksonís legacy tarnished. People of color deserve to have icons just like everyone else.
RW) Where were you when you heard the news that Michael had passed away, and what was your immediate thought?
CH) I refused to believe it even though the possibility existed. I got the news confirmed by a friend of mine who is Smokey Robinsonís publicist. Smokey is the former Vice-President of Motown Records. He is very plugged in to the on goings in California, so when he confirmed it, I knew that Michael had died. Itís still difficult to believe that he is gone. The Michael Jackson Estate has kept his memory alive. I feel like heís still here and that heís still proud of my accomplishments. He was a good friend.
RW) Right On! Magazine is iconic in Pop and R&B entertainment culture. You are responsible for much of why that is. For many of our younger readers, you were the Editorial Director of Right On. How did you get that post and what was that journey like for you as the editor? What were some of the challenges, the highs and lows of running such a popular magazine?
CH) I literally walked into a job at the publishing company that owned Tiger Beat and Right On! Magazine. They were looking for a well-educated youthful thinking person who could contribute to the bigger picture. There was actually an actress who looked the way that I did in BETís American Soul series which centered around Don Cornelius and Soul Train. That was my hairstyle and I actually owned a blouse and pants just like what the character had on! My journey was pretty amazing. I rubbed shoulders with the big, big celebrities and they all treated me like I was a little sister. Everybody looked out for me and protected me. It was a bit difficult because I was so much younger than everyone else. I had the experience, but it was show and prove every day for a few years. There was a lot of work to do; I didnít mind, but I wound up not having much of a personal life. My job was my life. It was a two-decade adventure but then I left to do grown up things like public relations and to work on some adult publications that were geared towards women and hip hop music. Everything came full circle two years ago when my family purchased Right On! and another title that I used to edit. Now, Iím the CEO and we are trying to rebuild the brands.
RW) Did you start out as a journalist and when did you first know this was a career you wanted for yourself. And, who was your big influence at the time?
CH) I have been writing since I was about 6 years old. By the time I was 11 I had become the editor of my elementary school newspaper and knew that this was going to be my career. I took the necessary steps by writing for local newspapers, doing some investigative reporting and even volunteered to do different tasks just so that I could be on the scene. I was always resourceful, so I took advantage of opportunities to make contacts. People always went out of their way to try to help me because I presented myself well and they enjoyed hearing my speaking voice. My first big interview was with the very reclusive Charles M. Schultz, creator of the Peanuts comic strip series. He was fascinated by me and allowed me to do an in-person interview. That interview became my calling card. After that, I was unstoppable! I whisked my way through college and started working in the entertainment field right away at Right On!.
RW) Like so many magazines, Right On Magazine's run came to an end. What year did the magazine officially end its historic run, and now it is back as Right On Magazine - Digital. When did you bring the magazine back and do you miss the days of when the magazine went to print and then distributed out across the world?
CH) The magazine ceased publishing about four years after I stopped working with the company that owned it at the time. It was acquired by a mutual colleague, but after about four years it stopped publishing as the teen field was no longer profitable. My family too over in 2016. I have missed print; I love print magazines and it was always fun to go to a newsstand and see MY work. But the business has changed, so I have to accept the fact that people donít support the publishing industry in the same way that they used to. Iím just grateful to be able to still do what I love and we are going to have some print issues. We did one with Cardi B on the cover and I smiled for days.
RW) You covered every celebrity imaginable over the years, but is there one out there that got a way that you would have liked to feature with an interview? And, out of all the celebs you have covered, who would you say graced the cover of the magazine more times than any other artist and why do you think that is?
CH) There are a few stars that got away when I was involved more with the hip hop industry and some artistsí management and/or publicists wanted them to appear in mainstream outlets. I missed out on Kendrick Lamar, Chance The Rapper and Kanye West, although I am hopeful that I can get them now that I am involved with my own publications. The artists who were Right On! covers the most were Michael Jackson, The Jacksons, Janet Jackson, New Edition, Prince, LL Cool J, Salt-N-Pepa, Pretty Ricky, Immature and B2K. Michael was probably our most popular celebrity as we always had plenty of access to him and there were always lots of photos and information. But we had a great deal of access to all of these celebrities and were able to make them superstars.
RW) You work tirelessly with your charitable organizations and raising awareness about the issues our youth face today through your associations with sororities and your Cinnamon Chips Media company. Tell us where the title, Cinnamon Chips Media came from and means; and some of your work with raising awareness for our young people in an electronic digital world of new threats?
CH) My company, Cinnamon CHIPS, has a cute story behind its name. Cinnamon is a screen name that I used to use in my early days of using email. My real name is Cynthia and it has been abbreviated by friends and celebrities, so I was often called Cin and my favorite candy is Cinnamon imperials (Red Hots), so I always liked that name. CHIPS is an acronym for Cynthia Hornerís Independent Production Services, so I just joined the two names together. A lot of people think that I sell candy, but I actually sell media services! I am involved with a lot of projects. For many years I was an officer in my sorority, Sigma Gamma Rho, Sorority, Inc., which was founded by seven educators in 1922. There are a few celebrities who are members, including Kelly Price, MC Lyte, Victoria Rowell and the late Hattie McDaniel. I always work on our programs and usually include some of my young celebrity friends like Marques Houston, Toccara, Shahadi Wright (US) and many others. Iím also involved with Body Sculpt of NYC, which encourages fitness for children and I have handled publicity for the Youth Development Foundation, Inc. which produced Hal Jacksonís Talented Teens for over 40 years. Iím passionate about working with young people and I love to put smiles on their faces. I always utilize my connections to ensure that these events go over well. I had a lot of help when I was a kid, so I like to give back.
RW) It seems like times are even harder today for our young people with things like bullying, trafficking, and the internet where predatory factions live to "radicalize", or sway our youth. What's your concern for young people today? What do you think the one biggest threat is to them?
CH) Bullying is a threat to young people today. I was the Chairperson of a Youth Symposium which my sorority, Sigma Gamma Rho Sororityís Kappa Sigma Chapter organized this year on March 10, and although bullying was on the agenda, we had no idea that several guest speakers had been bullied as well as about half the attendees. Young people are very conflicted. If you fight back you may be reprimanded and if you donít say anything, the situation can build up and become intolerable. What do you do? Itís a fine line. Of course, people should defend themselves, but sometimes there are consequences and legal action if it is not handled appropriately. Thereís not enough focus on this topic in the school systems and in many cases, students are encouraged to ďtough it outĒ or ďtalk it out.Ē But students are not social workers or trained negotiators, so they need help. I believe that self-esteem is at the heart of bullying and that resources are needed for adults and children so that they can get some assistance. Furthermore, social media plays a big part in bullying and that needs to be addressed. To often, people turn their head instead of tackling the problem dead on.
RW) What's next for Cynthia Horner in your work, any new magazines or charitable events we can expect from you that are in development?
CH) We are working on a lot of things right now. We will have a special issue of Right On! Available in stores and as a download through Wahida Clark Presents Publishing. Later in the year we plan to release a coffee table sized book as well. Next year, I plan to release my tell-all memoir. This is an exciting time for Right On! Magazine as we are now digital and forming partnerships with radio outlets and other business ventures. I am interested in developing more relationships with libraries in the New York City area. I have been working with the Queens Public Library, which has brought attention to our numerous endeavors, but I want to do more. Literacy is very important to me and I do not believe that we can ever do enough to encourage people of all ages to read, read, read!
RW) I never like to leave an interview without asking this question: If you were asked to give the commencement speech at any college or university for the graduating class of 2019, what would your message be to those young graduates about to face their lives now as adults?
CH) The path of truth, justice and righteousness continues. As we continue on our course to freedom for all people, regardless of the color of their skin or their myriad of beliefs we have to remember to carry my role model, Dr. Martin Luther King Jr., in our hearts. He went to the mountain top. The hip hop generation has taken solace in his message, and while the diversity of discourse may cause rancor, we should take comfort in such diversity of opinions as we are a melting pot and as such, will always come together even though the ingredients in the message comprise of an intriguing mixture.
RW) Please give us some social media links where we can find you and Right On! Digital?
CH) We can be found on the following platforms:
www.rightondigital.com
Twitter @cynthiahorner
Facebook: RightOn!Digital
Facebook: RightonMagazine
Twitter@rightondigital1
Instagram @RightOn!Digital
Thank you for your service these many years in providing us entertainment news about our favorite celebrities Cynthia. I know many readers of this article will now follow you on social media.
Read the Full article at:
https://hubpages.com/entertainment/Cynthia...
And for Right On! Digital, log on at:
http://rightondigital.com/
Posted By: Robert Walker
Sunday, April 7th 2019 at 3:00PM
You can also
click here to view all posts by this author...