Pop music has a new soulful singer on the scene by the name of Taij B, and she knows what her potential is as a singer.
Berry Gordy, founder of the Motown music label, knew very early on that fusing great personalities to great songs was the key to success in the commercial music market. That the potential of an artist's success truly relied on the artist's ability to interpret a song that made us as listeners, feel something.
This is why some of the great classic Motown songs are also some of the world's classic songs of all time. Many of those songs sung by such artists as, Marvin Gaye, Diana Ross and the Supremes, Smokey Robinson, The Four Tops, The Jacksons, and so many others, can still come on the radio and transfix us as if it were the first time we ever heard it. The songs make us feel some kind of way; happy, sad, regret, loss, love.
That philosophy made Berry Gordy a wizard of songs that produced some of the greatest artists in music history, something that Taij B is well aware of as she too hails from the motor city of Detroit, MI.
What a great role model for a young artist to grow up in a city steeped in such rich music history, and a challenge for Taij B to stand on the shoulders of that history for her own success.
Taij B has been singing since she was 8 years old and decided to pursue a music career professionally at 16. By age 17, Taij B had written and recorded 3 singles, "Grind Time", "Turn Up" and "Potential". She also performed at many of the state's high schools in the "Who's Got Next" tour, sponsored by Detroit's Urban radio station, WJLB Radio.
She graduated from one of the premiere performing arts high schools in Michigan at the Detroit School of the Arts with a major in Vocal performance. Her plan was to attend a performing arts college where she had several scholarships, but life's journey sometimes takes us in a different direction than originally planned, and so while Taij B did not attend college, she maintained her love for music and dream of being a professional singer.
She performed where she could in and around Detroit, including being in theater stage plays as part of the Michigan Interscholastic Forensic Association, or MIFA, which also allowed her to hone her song interpretation skills and on stage presence as both and singer and actress. Taij even won an award for Outstanding/Excellent Solo Performance while at MIFA.
Taij B is poised now to make her mark in music with a new management team headed by her manager/father, known to many in Detroit as, Flex Flex Ya Skillz, and with her new single, "Potential" to be released in 2019. So, for those of you already familiar with this Detroit native's music, and for those of you just learning of her, look out for Taij B on the radio and in performances in your city coming soon!
Q&A With Taij B
RW) I understand you are based in Detroit. Were you born and raised there and what was it like to grow up there?
TB) I was born and raised in Detroit, MI and actually still live in city of Detroit. Living in Detroit in my opinion is fast pace, hustle driven but authentic in a way. For every low-life somebody is working hard to be something. You have to watch your back but can yet run into some down to earth people. Detroiters always want to be better thank the next and scratch and crawl to get where they're going. It's whatever you make out of it.
RW) Of course Detroit is known for its rich music history with Motown Records label having started there and so many music icons? What has that meant for you as an artist. Does it give you any motivation or a standard to look to in how you pursue your career?
TB) Coming from a iconic city like Motown(Detroit) it's very motivating yet I feel a lot of pressure. I want to work as hard as the greats because I know how capable I am. I want to fulfill and reach my goals the way they did. They made something out of nothing with just raw talent. Its hard trying to succeed in a city where people always stepping on each other for what they want.
RW) At what age were you when you, or your family, discovered that you could sing? Did you sing in the church choir, or were you just singing along with the radio?
TB) I was about 5 or 6 when my family and mostly my dad discovered I could had a God-given talent. I grew up in the church of course and once the church family seen my potential I was singing non-stop. They would say I had a calling on my life and a anointed voice. I sung any and everywhere I just knew singing was my passion, it's the only thing that brings me true joy.
RW) Who are some of your favorite Motown singers?
TB) The Temptations, Micheal Jackson, Diana Ross, Marvin Gaye, Smokey Robinson, Gladys Knight, Al Green, Boyz II Men and Teena Marie.
RW) Who are some of your favorite singers on the music scene today?
TB) H.E.R, Beyonce, Seyvn Streeter, Maroon 5, Sam Smith, Normani, Khalid, Rihanna, Bebe Rexha and I cant forget about my old heads. Keke Wyatt, Ledisi, Monica and so many more
RW) If you could do a duet with one singer out there today, who would that be and why?
TB) If I could do a duet with a artist out today it would be H.E.R because she's true to her artistry, raw in her style and genre music and she makes dope music.
RW) You actually went to school for music, which I think is so smart to have done. Which school did you attend and what was your major?
TB) I attended Detroit School of Arts, and I was Vocal major.
RW) You also are a songwriter and write your own music? What was the first song you remember writing and what's the new single that you are launching your professional debut with called and the meaning of the song?
TB) The first song I remember writing was a pop type song "Mirror Mirror" with one of my uncle who produce "Rell Devine" when I first discovered I could write original music at 8 years old. At that time I was real into Disney, Nick and Pop culture. In 2019 the new single is titled "Right Here". The meaning of this of song is expressing how it's okay for a lady to be persuasive in the relationship. It's okay to be put aside your walls and pride and take control. Let a person feel more emotions from you.
RW) In addition to singing, what are some of your other goals as an artist? Will we see you in movies or designing your own clothing line one day?
TB) Some of my other goals is to become a cosmetologist. I've always had a passion for hair and currently do hair and as a young girl would love to do hair. Also to become a business owner, invest in property and stock. Mainly opening my own hair salon even if I don't actually do hair. I've done theatre, small film and stage plays so definitely. I consider myself well rounded and actually enjoy the acting world. I've always wanted to start my own brand rather it be makeup, hair, clothes or even a shoe line.
RW) I understand your Dad is your manager? I love that. What's his name and he is known in the Detroit music circles himself I hear?
TB) Yes, my "dad-ager" is Flex(FlexYaSkillz) and he's been into the music industry for over 25 years. He's dealt with Detroit DJs, Eminem, all the old heads in the game.
RW) I always like to ask people I interview this question before closing out the article: If you were asked to come back to your performing arts school that you graduated from to give kids some words of encouragement, what would your message be to them?
TB) To stay focused on your goals and vision, learn the value of patience, work hard, ALWAYS STAY CONSISTENT, NEVER EVER GIVE UP. Believe in yourself even when friends and family don't. There's no limit on what you can do.
RW) Tell our readers where they can get at you on social media? And when can we expect your new single to drop?
TB) Follow me on Instagram(IG) @Taijb_ on both Twitter and YouTube. I am working on a fan-page for Facebook. But, you can catch updates also on my EPK at:
www.myppk.com/get/taijb
Thank you Taij B for this interview. I heard a first cut of your new single, "Potential" and I think you have a big hit on your hands. I know our readers look forward to seeing a lot more of you.
NOTE: To see this article in it's entirety, log-on at /
https://hubpages.com/entertainment/Taij-B-...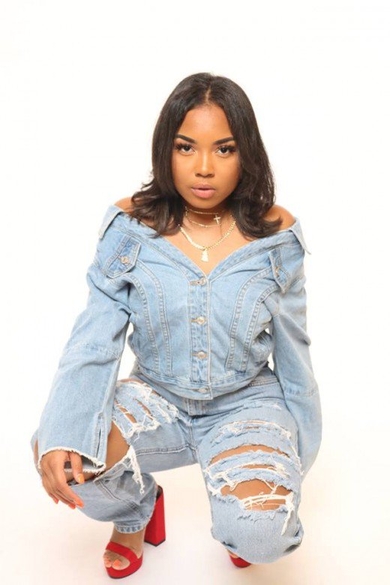 Posted By: Robert Walker
Tuesday, March 19th 2019 at 6:42PM
You can also
click here to view all posts by this author...