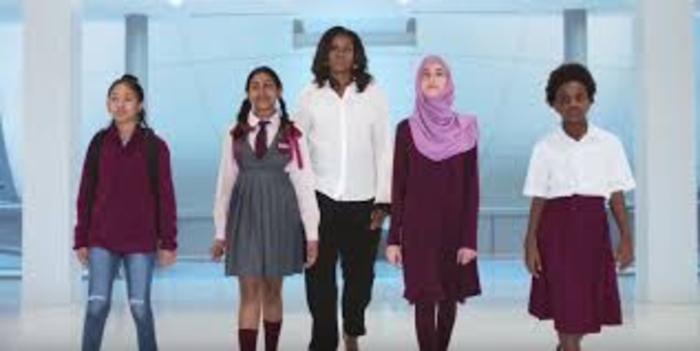 For Immediate Release From The Obama Foundation ~ Change the World, Educate a Girl!!
"On my final trip overseas as first lady, I visited a high school in Unification Town, a small village about an hour outside Liberia's capital city of Monrovia. There, I sat in a classroom where the only light came from the cloudy, rainy sky outside. As heavier clouds rolled in, the entire room dimmed, and I began to find it difficult to make out faces across even a short distance.
What I remember most from that day, though, couldn't be more clear: It's the promise inside each of those girls -- girls who show up every day to learn. They show up even after walking for miles or waking up early to earn some extra money to help pay their school fees. They show up even though their families depend on them to take care of younger siblings, cook meals, and ensure their household is running smoothly. They show up even though many are pressured to marry as adolescents, sidetracking their own goals for a man's.
The girls in that school are joined by millions of others who aren't able to get an education at all -- today, more than 98 million adolescent girls around the world are not in school. The reasons for this are many, including scarce resources, early pregnancies, dangerous commutes, and threats of violence.
Equally pernicious is something they're taught from an early age -- the belief that because they're girls, they're simply unworthy of an education. It's the same toxic mindset that keeps girls here in the United States from believing they can become computer scientists or CEOs. And it's a mindset that together, we've got to change.
That's why today, on the International Day of the Girl, I'm proud to announce the Obama Foundation's launch of the Global Girls Alliance. We're seeking to empower adolescent girls around the world through education, so that they can support their families, communities and countries. The evidence is clear. Girls who attend secondary school earn higher salaries, have lower infant and maternal mortality rates, and are less likely to contract malaria and HIV. And studies have shown that educating girls isn't just good for the girls, it's good for all of us.
Read the full article HERE!:
https://www.cnn.com/2018/10/11/opinions/international-day-of-the-girl-michelle-obama/index.html?utm_medium=social&utm_source=twCNN&utm_content=2018-10-11T12%3A40%3A02&utm_term=image
****************
We are Girl Up Initiative Uganda (GUIU), dedicated to advancing girls education for the most disadvantaged girls. We have worked in Kampala's urban slum areas serving adolescent girls for over five years as our core target group.
In the communities where we operate, adolescent girls lack the educational, economic, health, and support services to escape the cycle of poverty and oppression that lead them into risky situations for survival such as early marriage and pregnancy, relationships with older men, s*x work, and more. The consequences of these actions include gender based violence, contraction of STIs/HIV, dropping out of school, and drug abuse.
In response to these issues, GUIU developed its programs with the overall aim to tackle pervasive gender inequality and patriarchy by empowering girls and women to be confident leaders in their communities. In order to advance girls education and contribute to systematic gender change within low-income communities, GUIU employs a multi-sector community development approach together with girl-centered programming to provide adolescent girls with the support, mentorship, and non-formal education they require to thrive.
Read the full article HERE!:
https://www.gofundme.com/GirlUpUganda
**************
About the Project
The main aim of this project is to bring out-of-school girls near rural areas of Lucknow (India) to a formal school and provide them an empowering and rights-based education. These girls have either never been to a school or have dropped out too early due to various societal pressures and gender biases. SHEF is already working towards this aim in the urban areas of Lucknow through its Prerna Girls School. Prerna, founded in 2003, is a highly subsidised school for girls from extremely marginalized urban communities, with a feminist, rights based approach. More than 2500 girls have been educated in Prerna since its founding in 2003. Currently it has an enrolment of 1004 girls.
Read the full article HERE!:
https://www.gofundme.com/SHEFGirls
**********
This project is supported by the Global Girls Alliance.
Please help raise $5,000 to educate young girls in Ghana!
About Us
The Campaign for Female Education (CAMFED) fights poverty and inequality by supporting girls to go to school and succeed, and empowering young women to step up as leaders of change. For 25 years, CAMFED has invested in girls and women in the poorest rural communities in sub-Saharan Africa, where girls face acute disadvantage, and where their education has transformative potential.
CAMFED supports girls and young women through school, and then on to new lives as entrepreneurs and community leaders. To complete the "virtuous cycle" and create sustainable change, graduating students become CAMFED Alumnae (CAMA), many of whom return to their local schools to train and mentor new generations of students.
United by our background of rural poverty, CAMFED Alumnae empathize with the significant challenges faced by vulnerable children in rural communities. Additionally, having been supported through school ourselves, we have a strong motivation and commitment to reinvest in our communities. Each CAMFED alumna, on average, supports two more girls to go to school, and rallies community support around the most vulnerable.
Read the full article HERE!:
https://www.gofundme.com/change-the-world-educate-a-girl
AND LET'S GO!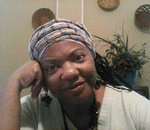 Posted By: agnes levine
Saturday, October 13th 2018 at 4:04PM
You can also
click here to view all posts by this author...