BYSB Talent Agency opened it's doors in 2017 and is described as a boutique talent agency. A small company that offers highly specialized services or products to their clientele with big talent agency experience in their founders, Angela Brown, Christopher Young and Tay Smith.
BYSB understands that the advent of the internet in this information age has changed how most businesses operate today. People don't go to the department stores like they use to because of the increase in on-line shopping; music artists upload their songs on YouTube, and other streaming social internet sites, market themselves and sell their songs without a major label behind them.
Such is the case for "would-be" and trained actors who utilize social media to create a reality TV series, or web series, and utilize the internet to create recognition and commercial endorsements with postings that go "viral".
Case in point, YouTube phenom, Logan Paul, has a following of over 17 million viewers for his vlog postings. Paul pulled in $12.5 million dollars in 2017 because of his number of viewers.
That being said however, most professional actors will tell you that having a good hands on agent, or agency, is still crucial in the performance arts world.
There are two kinds of agencies for above-the-line clients. Agencies that represent actors are called talent agencies, and those that represent script writers, directors and occasionally producers are called literary agencies. The biggest agencies are therefore talent and literary agencies.
BYSB maintains their boutique status while offering talent and literary services purposely as the blurring lines between agencies and studios is the result of a unique confluence of industry trends. For decades, agencies have depended on packaging fees as their bread and butter. The fees are what an agency charges a studio or network for bundling its talent — actors, writers, directors — on a project, usually extracting a percentage upfront and on the back end.
Christopher Young of BYSB Talent says, "We are the agency of relationships. Our goal is to cultivate relationships with a broad spectrum in mind as we realize artists, many of them, are multi-talented and that provides for diversified possibilities to include acting, writing, directing and producing."
I interviewed BYSB founders, Tay Smith, Angela Brown and Christopher Young recently to get a look into the inner-workings of their agency's rise in the digital information age.
Q&A with BYSB
Q) Kudos to all for starting your own agency, BYSB Talent Agency. BYSB are the initials of each partner's last name of your new agency. Tell us the full names of each partner, and why did you decide to start your own theatrical agency at this time?
A) BROWN, YOUNG, SMITH, BUCHANAN (Angela Brown, Christopher Young, Tay Smith & Buchanan is a silent partner) The decision was based on several things. As many know, Tay and I spent five years at another agency and truth be told, we believed that we had an open invitation to remain with them for as long as we wished. June 21, 2017 was a Wednesday, and though we both felt a shift in energy within the offices of the former agency, we both resisted it - all the while, within the day we were let go. Immediately, we rapid planned a trip to Los Angeles with the intent of taking meetings, specifically with Angela Brown who had asked to speak, and/or meet with us months earlier. Funny, because we avoided meeting with Angela for nearly a year due to our loyalty to the former agency. Timing is everything as we all know. It's time for a southeast based agency with our dynamics. We are cutting edge, innovative, inclusive and diverse in our team members and talent base. We thrive on thinking outside of the traditional box of what an agency looks like and even to our expectations from ourselves and our talent.
Q) What has been the overall response from your contemporaries in the business, and has there been any backlash or surprise about your new venture?
A) That's a trick question, right? LOL. Surprisingly, there are several agencies in the market that have been extremely supportive. One in which, the owner has lended us a listening ear, words of wisdom and advice. We choose not to focus on any negative energy, ever. We have received complete validation from the regional casting professionals, and their open doors of opportunity to book our BYSB talent. The endorsement becomes apparent to us when the talent shows up, skilled, ready to work and books the role.
Q) Film and Television is your primary focus as a theatrical agency, but do you plan to eventual introduce other genres of entertainment into the agency operations, such as modeling, music, or the literary fields?
A) Great question. We have always felt a need for various departments and we are slowly engaging in conversation with talent about it all. For instance, we see the need for social media influencers and at the same time it is essential for them to have representation in the open marketplace. Our modeling or print department is in motion as we speak. We have found an industry professional who has the desire to create a unique boutique roster for an aggressive approach. In terms of music, our desire isn't to represent the musician or recording artist within the music business per se, but rather to expose them to the idea of television, film and commercials. We've had success with this concept in the past, and our greatest example of that is, Algee Smith. Algee initially was our management client, but once we transitioned into becoming agents, he made the move as well to become our client for representation. Our last few deals on his behalf were his roles in both the New Edition biopic on BET and the feature film, Detroit.
Q) What do you feel will set BYSB Talent Agency apart from the other Talent Agencies in Metro Atlanta?
A) I'm glad that you have asked. Quite frankly, the face of ownership! What an amazing time we are in at this moment with so many African American successes. Alongside Angela Brown, who really is the angel for the BYSB vision, Tay and I are excited to present our brand from the standpoint of two black men with a roster of an eclectic, diverse mix of individuals young and old.
Q) Let me get one word from each of your partners at BYSB that best describes your vision of the company:
Angela - Faith
Tay - Limitless: There's no ceiling or cap-off to our vision for this company. We pride ourselves on constantly reinventing and thinking outside of the box. I believe once we stop being creatives in our own right, the limits will start to form.
Chris - Intention: It is our intention to run with full vision. I always say that we MUST see the end from the beginning.
Q) You officially opened your new agency on August 1st, 2017? What are some of your short term goals with the business?
A) We look forward to forming the Print, Voiceovers and Social Media Influencers departments.
Q) They say that when you start a new business, you need to have a 5 and 10 year out plan. What are your goals and expectations in the next 5 to 10 years with BYSB?
A) Work in progress.
Q) Are you currently accepting actors for representation consideration, and what is BYSB's criteria in accepting new talent?
A) We are always seeking new faces.
We ask actors to please submit the following:
- Recent headshot
- Resume (updated with any/all credits)- Reel (if they have one)- Recent self-tape audition (NO monologues, please only submit scenes w/ a reader)
Although we would love to meet each actor individually, it is not possible at this time. PLEASE NOTE: We DO review each submission in the order in which it is received.
Q) Are there any actors you have already signed that you can mention at this time, and will you only rep. actors, or will you also rep Producer/Directors as well?
A) Trayce Baker, Sean Baker, Donna D'Errico, TC Carson, Angie Stone - We are actually looking for writers and directors.
Q) Will BYSB offer any open call days like some agencies use to do, or any talent development, if you see someone you feel has potential but could use some more training?
A) Yes! We believe in the concept of artist development. We actually have a few select clients that would typically fall into that category, and many of them have already booked a few opportunities. Our open call is coming soon during the summer of 2018. We will make the announcement on our social media outlets.
Q) Finally, what's the one thing each of you wants the industry, and the public, to know about BYSB Talent. What can we expect over this next year as you lay the foundation for the business?
A) We are the agency of relationships. Our goal is to cultivate relationships with a broad spectrum in mind as we realize artists, many of them, are multi-talented and therefore lends a much broader spectrum of professional possibilities to include acting, writing, directing and producing.
Thank you BYSB Talent, I have no doubt we will be hearing great things about many of the actors you represent that will help you all become the "go to" agency in industry.
For More about BYSB Talent Agency and how to get in touch with them, log-on to my article:
https://hubpages.com/entertainment/BYSB-Talent-Agency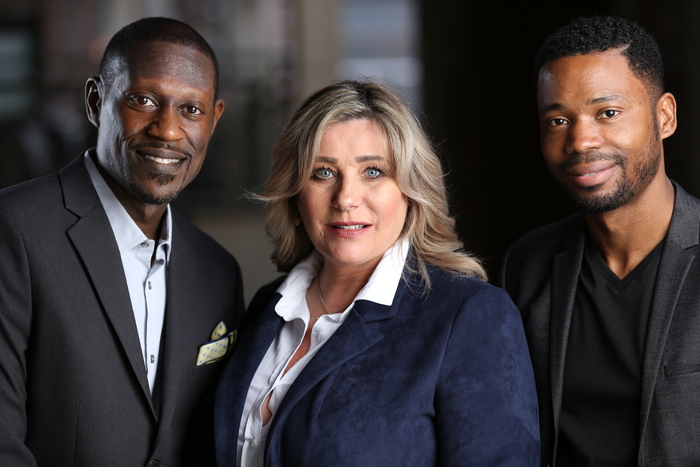 Posted By: Robert Walker
Wednesday, August 1st 2018 at 11:22AM
You can also
click here to view all posts by this author...