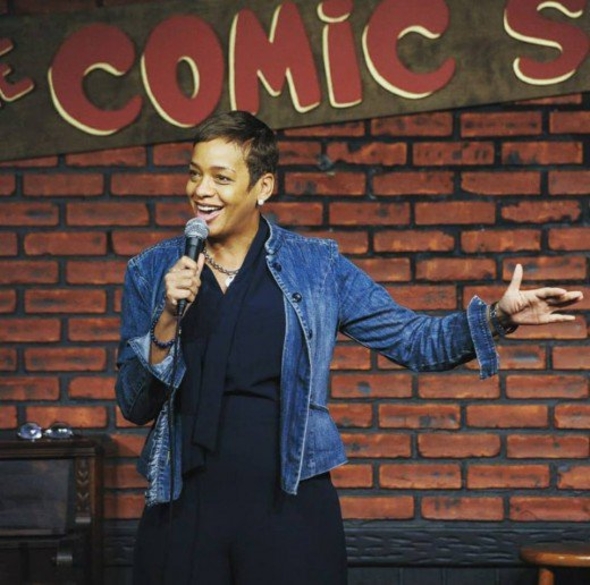 There is a saying that to work smart is better than to work hard. Areshia McFarlin has been called a smart comic and actress because her work as a thespian, comedienne, writer and producer, is garnering her beads of success in a business where talent is just one part of the equation.
A native of Atlanta, GA, Areshia attended Northside School of the Performing Arts and earned a Bachelor of Arts Degree, from Hampton University. Upon completion of her undergraduate studies she relocated to Los Angeles, CA.
It was there that she got her first taste of both film and television. She found work on the sets of shows like, "The Parkers" and "Any Day Now", and "One on One". However, she yearned for more. Not content to languish in a life in the background, she left Los Angeles and relocated to New York City.
It was in New York that she earned her Master of Fine Arts from Columbia University. She completed The Michael Howard Acting Conservatory as well as the American Comedy Institute 1-year Conservatory Program and went on to appear in numerous stage, television, and film productions including, 'Law & Order', 'Any Day Now', 'The Dating Game'and 'Chicago Hope', to name a few.
Currently, she can be seen in the 2018 web series "Single Record" with Director Nelson Moses Lassiter, where she appears as the no-nonsense record exec Maxine Harris. She can also be seen regularly at the Broadway Comedy Club in Manhattan, NY.
Also in 2018 Areshia performed in a theater production of 'Macbeth' with Director, Jeffrey Lamont Page at Columbia University; done an industrial film, 'Go Math Training Video' for Houghton Mifflin Harcour.
She has written several television series and feature films. She has been a member of the SAG/AFTRA nearly 20 years.
Areshia can be seen regularly at Broadway Comedy in their residency program, and is booking nationwide performances where her shows are described as being "Clean, Christian comedy, and Family Friendly Satire".
I caught up with Areshia recently to discuss her career and what's on the horizon with her new works.
Q&A w/Areshia McFarlin
Thank you Areshia for taking this time out of your busy schedule to let our readers learn more about you.
Q) You have been busy with some recent stage performance work. What was the play, and what part did you play?
A) Yes, I sure have been busy. I just participated with an all-black cast workshop of Shakespeare's "The Tragedy of Macbeth" with award-winning choreographer and director Jeffery Lamont Page. It was phenomenal! We had an extremely talented ensemble of actors. It felt like Shakespeare in Wakanda. I love my people, we can do some amazing things when given the chance to explore and be creative. Jeffrey is probably one of the most generous and encouraging directors with whom I have ever worked. He challenged us all to go the distance and explore our characters from a very personal level. Each actor held multiple roles, accept Macbeth, of course. I performed three different characters; the First Witch, Thane of Ross and the Gentlewoman. All were three very different roles, if you can imagine. We had no props, no lighting and no wardrobe; just our imaginations. The piece was well received. I hope Jeffery decides to keep exploring the Classics this way. I know that it sounds childish, but I revel in the world of "make believe".
Q) I hear actors have preferences for which medium they prefer to work in, stage performance over television work, or movies over television. Do you have a preference from your experience?
A) I love Television! Sitcoms especially. While I enjoy a night at the movies, or even a weekend binge of Netflix, nothing beats a good ole American sitcom. That being said, I am a sucker for good musical theater. In my heart and mind the stage is the long lost twin sister of Television. Sound Stage or Main Stage, I'm at home in either one.
Q) James Earl Jones said that he once struggled with playing to the camera for the small screen as opposed to a stage performance where you have to play out to an audience. Do you find yourself making those kinds of adjustments?
A) I believe that if you are going to be successful in either, you must be flexible in both. An actor must respond in both an authentic and appropriate way. For example, the way I could invoke emotion down stage in a 500-seat theater as "Rena" in August Wilson's Jitney is far different from the way I can convey that same emotion slumped over in a living room with my acting partner and a handful of crew members. I hope that makes sense. What I am trying to say is that emotion translates differently on stage than it does on television. TV and film are far more intimate experiences. The camera can pick up even the slightest expression. The stage creates distance and the actor must "express" using broader action and feelings.
Q) You are also a comedienne, and I watched a recent performance of yours that had me in tears with laughter. What came first, acting or comedy, and when did you know you wanted to pursue comedy?
A) Aww, thank you for that! I think that's kind of like asking, "which came first, the chicken or the egg?" I can't really say that I know. All I can tell you is that when I was little I wanted to be Michael Jackson when I grew up. I knew that I wanted to perform. I was always a bit of a hack. I used to set my little sisters and all of our dolls and teddy bears up on the floor in the living room like they were my audience, and I would perform all my "greatest hits" for them. Then I would instruct them on how to cheer for me. I'd yell from the stage (our raised fire place), "Call me Whitney! Call me Whitney!". They were 6 and 8 years younger than me, so of course they obliged me. I remember the first time that anyone ever told me that I was funny was on a visit to Greenbriar Mall in Atlanta, GA with my Daddy. I don't know what it was that I wanted, but in typical fashion he said "no!". I decided to embarrass him to death by pretending to be a severely disturbed and disobedient child. I was relentless in my act all the way from the Rich's cash register to the car. I drooled, I feigned a speech impediment and a limp. I was 13 and clearly politically incorrect and ignorant. But, boy did I have a good time that day! My Daddy laughed so hard he lost his breath. Which only encouraged me to go harder. From that day forward, every time he would see me perform in anything, he would say, "You've missed your calling, you should do comedy". But who listens to their Dad about anything? Surely not me. So fast forward two decades later in a devastatingly bad marriage (that my Daddy also warned me not to get into), I decided that I needed an outlet, so I decided to take a stab at stand-up. Well, wouldn't you know, I wasn't too bad at it and here I am 10 years later, still rockin' the mic. Thanks Daddy!
Q) Who were some of your favorite actors and comedians coming up, and, what one person would you say you admired above all else that influenced you?
A) I love Eddie Murphy! Always have, always will! If I ever get to work with him, I don't know what I will do. Oh, I think that I might just fall out right then and there and die on the spot. No, not until after I get my check from whatever work we were doing, but after that, I would surely go on to glory. Oh, and Chris Rock! I love the post-Africa Dave Chappell, and of course Idris Elba (I'm available boo!).
Q) One of the first people you reminded me of when I saw your stand-up routine is 'Girls Trip' comedienne/actress, Tiffany Haddish. Has anyone ever made that comparison of you before?
A) LOL. Thank you for the comparison, Tiffany is great, and I am sooo proud of her. She is winning the game!!! I love that for her. We are definitely the same age-range, and style, but our approach is pretty different. She's very upbeat and positive. I'm more matter-of-fact and sarcastic. Tiff can tell a good story, that we do have in common.
Q) Tiffany is enjoying huge success right now, but like so many artists, had to pay her dues. Would Tiffany Haddish be someone you could see yourself working with...maybe in 'Girls Trip 2'?
A) ABSOLUTELY!!! Do you know Malcolm Lee or Will Packer? Are they reading this? To whom should I send my headshot and resume? I'm ready!!!
Q) Who are some of the actors or comediennes out there now you would love to work with?
A) Well, again Eddie Murphy, but as you know, that may kill me. So beyond that, I will say this: I write also. I've written films, Televisions shows and stage plays, and I always write with actors in minds. I have a few ensemble pieces, and they include folks like Phylicia Rashad, Idris Elba (still available boo) and Vivica Fox. But more than that, I write with many of my lesser known and extremely talented actor friends in mind, like Charles Browning, Wendell Franklin, Nefetari Spencer and Chuck Burks (yes, shameless plugs). I have friends who have been grinding it out in the game for years, just like me. So, whenever I have a chance to produce my own content, I always cast my friends. That way when I do get my big deal with Sony (that's on my vision board), I won't feel bad about not hiring them. I kid, I kid!
Q) You are New York based now, but grew up in Atlanta, GA. You also were out in Los Angeles for a time. All three cities are industry hubs now. What do you like about each city?
A) Atlanta is home, I am always going to be a peach. I am always open to go home to work (call me Tyler, I can stay at my Mama's house). I'm from East Point, and I went to school in the SWATs, so it don't get more ATLIEN than that. Southwest Atlanta is the real Mecca. I lived in LA for almost 10 years, and I totally see myself going back. I had a lot of success there and made a ton of friends. I literally only came to New York City to go graduate school. I got my MFA from Columbia University. I had all intentions of moving back to LA after grad school, but I got caught up in that bad marriage that I was telling you about, but let's stay on topic. I love the vibe and opportunity in NYC. You're not limited to what you can do, and not having and agent won't make or break you here. You also have to know your stuff in NYC. You're not going to make on looks alone. You'd better go take a class or two, if being a size 2 is all you have on your resume in New York. But man, LA is soooo much cleaner. I miss the sanitation system, if nothing else. We just didn't have rats in Ladera Heights, and you can't just decide to release yourself on the corner of Wilshire and LaCienega. LA also just has a way of making you feel pretty, especially when you can get a fresh pressed juice and facial fillers all at the same time.
Q) You also come from a strong family of successful women who are professionals in the media world. Your sister is a producer and Mom a media professional. Are you the baby sister and what has that meant for you having such strong women around you that are family?
A) Ha! I am the second oldest and all of those heifers are some powerhouses!!! My mother, Murdell McFarlin, was a TV producer and media professional her entire career. She just retired last year, but she's still directing everything and everybody. I wouldn't know what a sound stage was if it wasn't for her. My younger sister Ashley is a Reality TV producer. She's done a ton of shows! She is uber-successful and makes me look lazy. I could've been reality show famous a long time ago. That marriage I was in (that we won't talk about) would have been a perfect storyline for any of my sister's shows. I am super proud of them both. I also have two other sisters. My oldest sister Arneida (she's going to be head of my security team when I blow-up) is a Compliance Officer for a Fortune 500 company. My baby sister Aaronnette (my body double and "turn-up" advisor) is a Human Resources professional in Atlanta. I have everything I need once Steven (Spielberg) calls me.
Q) Are there any projects coming up from you that you can speak about, and what are some of your near future goals with your career?
A) Well, I am competing for a residency at the Broadway Comedy Club this weekend. Let's pray that works out. Rent's due! I perform my stand-up and audition regularly, and when I book a gig, I don't tell anyone until I am sure that I'm not going to end up on the cutting-room floor. Catch me if you can!!
Q) I like to ask this question of people I do interviews with because I know we have a lot of young readers: If you were giving the commencement speech for the graduating class of theatrical and film students of 2018, what would your message be to them?
A) Prepare to be broke for a long time. If you can wrap your mind around this concept you won't be prone to jump on a pole. Stay off Instagram. All of those motivational memes will make you feel like you aren't doing enough. You're doing more than enough. Matter fact, you're probably doing too much. Run your own race, only compete to be better today than you were yesterday. Keeping up with them folks gone have you hopped up on opioids. No matter what people tell you, you can survive off bread alone. Trust me, I've done it, and gluten-free works best.
Q) Areshia, this has been a real pleasure for me, as I have known of your mother and sister's successes, and so it is awesome to see another success in the family. I know we will be hearing great things about you soon. How can our readers follow you on social media?
A) I'm off the grid. Social Media is the devil.
Just kidding, you can follow me on Facebook, Instagram or Twitter as @AreshiaAreshia
Well thank you for allowing our readers to know more about you Areshia. Perhaps we will all see you in a Romantic comedy with Idris, Eddie, Dave and Chris as your love interests one day. You can write the script!
For more on this article and to Follow Areshia, log on my Hub Feature at:
https://hubpages.com/entertainment/Areshia-McFarlin-A-Pretty-Smart-Comic
Posted By: Robert Walker
Friday, June 29th 2018 at 1:17PM
You can also
click here to view all posts by this author...