This past weekend, Oakwood University hosted its 2018 Commencement Exercises for 379 of the brightest students in world who entered to learn, and have now departed to serve. An additional five "guest" graduates participated in the Commencement service on Saturday night. Guests are defined as those who chose not to march at their respective institutions because of Sabbath observance and other scheduling concerns.
One highlight of the program was the awarding of honorary doctorate degrees to George and Mary Helen Sampson, and Charles E. Bradford. Pictured at right, Dr. Bradford expressed his enthusiasm about Oakwood University.
Here are some interesting statistics about the Class of 2018:
•Oldest graduate – 61 years old
•Youngest graduate - 20 years old
•Male 147
•Female 232
Highest GPA - 3.99
•DaNia S. Henry
•Lindsay Goldthorpe
•Holly R. Forbes
Graduate Honors:
•Summa Cum Laude: 16
•Magna Cum Laude: 23
•Cum Laude: 44
•Honorable Mention: 64
Schools:
•School of Religion: 28
•School of Arts & Sciences: 110
•School of Education & Social Sciences: 40
•School of Nursing & Health Professions: 101
•School of Business: 103
Top Majors
•General Studies 46
•Dietetic Internship 37
•Biology 27
•Health Sciences 15
•Ministerial Theology 15
•Nursing 15
•Organizational Management 15
Specialty Degrees:
•Masters – 5
•Adult & Continuing Education (LEAP) - 44
•Dietetic Interns - 37
Graduates from 30 of the 50 United States; the top five (5):
•Alabama 108
•Florida 40
•Georgia 35
•New York 32
•California 31
Graduates by Country of Origin
•United States of America 362
•Bermuda 6
•Canada 6
•Bahamas 5
•Cote D'Ivoire 1
•France 1
•Trinidad and Tobago 1
Oakwood University, Office of Integrated Marketing & Public Relations | 7000 Adventist Blvd. NW, Huntsville, AL 35896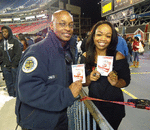 Posted By: Elynor Moss
Thursday, May 17th 2018 at 11:52AM
You can also
click here to view all posts by this author...