Central State University, one of Ohio's 14 institutions of higher education, is working collaboratively with public and private sectors to provide quality educational opportunities that support workforce development. "Higher education degree attainment is the catalyst for innovation, creativity, economic security and sustaining an informed citizenry,'' said Dr. Cynthia Jackson-Hammond, president of Central State University.
Central State joins other sister public institutions in a collaborative effort, launched today, called Forward Ohioto mobilize energies in ensuring higher education is a public policy imperative for state government. "Central State University believes that the Ohio 'talent gap,' is of concern but can be mitigated by providing an outstanding education for students in order to strengthen the workforce," Dr. Jackson-Hammond said.
Studies indicate that about 66 percent of jobs in Ohio in 2025 will require postsecondary certificates or above. Currently, just 44 percent of working-age Ohioans have these credentials. Given the fact that Ohio public universities produce the majority of skilled workers in the state, maintaining a strong system of public higher education is essential to closing this gap and meeting the economic and workforce needs of our business community.
Central State's new agricultural education degree, designed to address a critical shortage of Ohio ag teachers, is an example of new degrees the University is offering to meet Ohio's needs. The Summer Banking Institute, which trains CSU students for jobs in Ohio's banking industry, is an exemplary public-private partnership that will yield dividends for Ohio's workforce. As Ohio's most affordable four-year institution, the quality and value Central State provides to all students is an indication of CSU's commitment to provide access to Ohio citizens. All of Ohio's public universities stand united in our quest to educate and graduate students so they are better prepared for thriving careers in Ohio.
Forward Ohio's information portal at
http://forwardohio.org/illustrates
how all of Ohio's public universities are addressing the attainment gap and providing significant value to the state. It also provides evidence on the critical need for more skilled workers and how enhanced state investment and policy reforms can further assist public universities in closing the attainment gap.
According to a recent poll, 85 percent of Ohioans agree that a four-year degree from a public university in Ohio prepares students for a good job in today's economy. "I encourage Ohio citizens to stand with me and my fellow public university presidents as advocates for a strong and productive system of public higher education in Ohio, for the benefit of our students, our economy and our state," said Dr. Jackson-Hammond.
About Central State University:
Central State University, located in Wilberforce, Ohio, is a regionally accredited 1890 Land-Grant University with a 131-year tradition of preparing students from diverse backgrounds and experiences for leadership, research and service. The University, which has been named 2017 HBCU of the Year by HBCU Digest, fosters academic excellence within a nurturing environment and provides a strong liberal arts foundation and STEM-Ag curriculum leading to professional careers and advanced studies globally.
Media Contact: Edwina Blackwell Clark
(937) 376-6216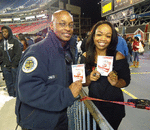 Posted By: Elynor Moss
Monday, May 14th 2018 at 12:22PM
You can also
click here to view all posts by this author...