Claflin University welcomed more than 120 high-achieving high school seniors to its historic campus for the sixth annual "Become a Visionary Leader Day" last Saturday, at the W.V. Middleton Fine Arts Center. The event introduced exceptional scholars from throughout the nation to Claflin's high-quality academic programs and its world-class faculty. Claflin's Office of Admissions hosted the event which included presentations by University administrators, faculty, staff and students from the Alice Carson Tisdale Honors College.
"This event is specifically for a special, select group of high school seniors who meet certain criteria including exceptional test scores and impressive grade point averages. Every student in attendance is offered a scholarship ranging from $3,000 dollars to Presidential Scholarships," said Antonio McFarland, assistant director of admissions at Claflin. "This event allowed them to experience the life of a scholar. They toured residence halls and other campus facilities, met with President Tisdale and other administrators and professors, and ate lunch in the dining hall."
McFarland said that most of the students were from South Carolina and neighboring states, including Florida and Georgia. A significant number of students expressed interest in STEM majors in the School of Natural Sciences and Mathematics.
"We are excited that we had a record number of students for this year's event. We are hopeful that many of these students will choose Claflin for the next step of their transformational journey to earning a college degree," said McFarland.
"If you come to Claflin, we will prepare you to become a visionary leader," said President Henry N. Tisdale. "Come to Claflin and you will find that academic excellence is our flagship. That is our commitment and our promise."
Shilpa Kannan, a senior from Hampton High, plans to enroll in Claflin and major in computer science. Kannan is a native of India who moved to South Carolina two years ago. Claflin's diverse and engaging atmosphere and the reputation of the computer science program sparked her interest in the university.
"Since I'm from a different country, I looked for a university that was welcoming to different cultures, "said Kannan. "I talked to several students who already attend Claflin. They told me about the internships and opportunities to conduct research with your professors. That is what I'm looking for."
Jzaquoan Drummond a senior from Greenville (SC) High School, received a pleasant surprise when he was awarded a scholarship.
"It felt great when they called my name and presented me with a scholarship offer. I feel a great sense of accomplishment," said Drummond who plans to major in education. His goal is to become a teacher at the middle school level. "I am the only male in the teacher cadet program for aspiring teachers. I am very familiar with Claflin's teacher education program and its focus on preparing African-American males to teach in grades K-12. That is one of the reasons I was attracted to Claflin."
According to Alice Carson Tisdale, director of the honors college which bears her name, 15 students received scholarships and admission to her prestigious program.
"This event is very important to Claflin and the honors college because these talented students learn what Claflin has to offer," said Tisdale. "In addition to the scholarships, we tell them about internships, and how they will meet some of the top professionals in the fields they plan to study. These are great students who will spread the good news about Claflin and bring other outstanding students with them."
http://www.claflin.edu/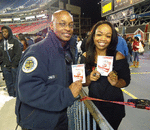 Posted By: Elynor Moss
Tuesday, February 13th 2018 at 3:03PM
You can also
click here to view all posts by this author...