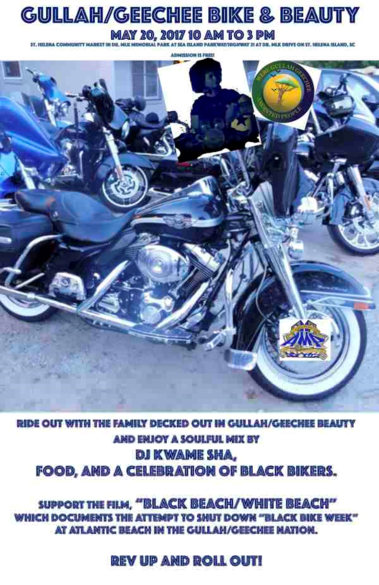 May is "National Bike Month" and the Gullah/Geechee Nation is joining in the celebration! Not only are the leaders of the Gullah/Geechee Nation encouraging people to participate in "National Bike to Work Week" May 15-19, 2017, they are encouraging Gullah/Geechee and Black bike riders to cycle and cruise down to the St. Helena Community Market in the Dr. Martin L. King Memorial Park on historic St. Helena Island, SC in the Gullah/Geechee Nation on Saturday, May 20 between 10 am and 3 pm for "Gullah/Geechee Bike & Beauty."
"Gullah/Geechee Bike & Beauty" will be a celebration of Gullah/Geechee & Black bikers on motorcycles and bicycles. It will also celebrate the beauty of Gullah/Geechee culture and how the native Gullah/Geechees express that beauty. Folks are encouraged to bring Gullah/Geechee & Black youths out on their bicycles to enjoy the hula hooping and double dutch contest. There will be crafts, books, food, and CDs on sale. DJ Kwame Sha of All Mobile Productions™ (AMP™) will be mixing while folks enjoy the dance party throughout the day.
"Gullah/Geechee Bike & Beauty" will conclude as part of the "Gullah/Geechee TV & Movie Club" as everyone cycles over to the landmark St. Helena Branch Library for the 2:30 pm screening of the new documentary, "Black Beach/White Beach." The filmmakers will be on hand to dialogue about this film that shows the history of "Black Bike Week" in the Black Pearl of the Gullah/Geechee Nation-Atlantic Beach and the battle to keep it going.
Although admissions for "Gullah/Geechee Bike & Beauty" and the film are FREE, attendees are encouraged to go to this link and obtain advance passes:
https://www.eventbrite.com/e/gullahgeechee-bike-beauty-tickets-33814139000?aff=erelexpmlt
They can also follow the "Gullah/Geechee Bike & Beauty" Facebook event link for updates and educational information on the history of Black bikers:
https://www.facebook.com/events/1371913172903030/
Rev up and roll out fa jayn we fa Gullah/Geechee Bike & Beauty!
#GGBB #GullahGeechee2020https://gullahgeecheenation.com/2017/05/09/gullahgeechee-nation-celebrates-bike-month/
**************************
Join the Beaufort Gullah/Geechee Famlee at the "Gullah Lowcountry Dinner" on Friday, May 26, 2017 at 5:30 pm. This event will feature a presentation by Queen Quet, Chieftess of the Gullah/Geechee Nation entitled
"Hallelujah Harriet: Mother Moses and de Gullah/Geechee."
The entire event is a fundraiser for the Harriet Tubman Monument which will be placed at Tabernacle Baptist Church Campus. The ground breaking ceremony for the monument will take place on Saturday, May 27, 2017 at 10 am and is open to the public.
www.gullahgeecheenation.com
https://www.eventbrite.com/e/gullah-lowcountry-dinner-theater-harriet-tubman-monument-fundraiser-tickets-34422790493?utm-medium=discovery&utm-campaign=social&utm-content=attendeeshare&aff=esfb&utm-source=fb&utm-term=listing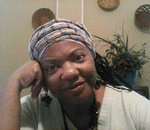 Posted By: agnes levine
Monday, May 15th 2017 at 2:34PM
You can also
click here to view all posts by this author...