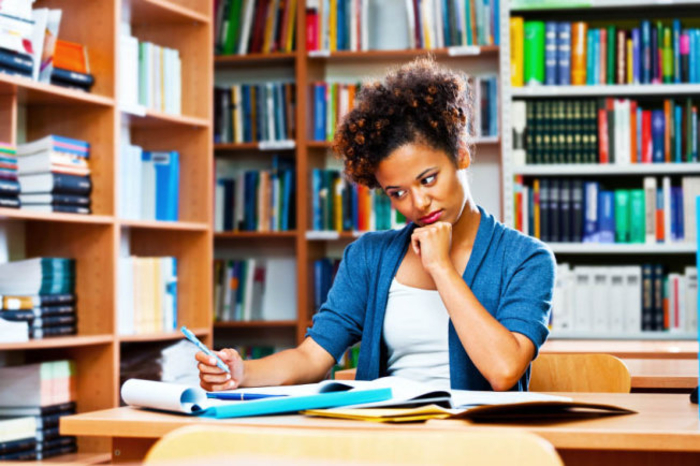 Whether you're a high school student worried about paying for college or a current college student looking to close the financial aid gap, your academic excellence can be converted to cash value if you find the right merit-based scholarship for your needs. While scholarships offer great value for good students, the complicated research and application processes can prove intimidating for many students to navigate, which can cause even top students to miss out on opportunities for great scholarships.
If you're interested in learning more about the best academic scholarships for African- American students, we've scoured the corners of the Internet to bring you 10 of the best. Here, in no particular order, are ten great merit-based scholarship opportunities for African-American students.
HBCUCONNECT.COM - HBCU Student Scholarship
Every quarter HBCUConnect.com offers scholarship dollars to students attending HBCUs to help with books, tuition or other educational expenses. The only stipulation is that you must be attending or planning to attend an HBCU, and you will need to submit a brief essay and bio to be considered. Currently the scholarship is distributed quarterly, but could soon be a monthly distribution to lucky students.
The Coca-Cola Wal-Mart Scholarship
The Cola-Cola Wal-Mart Scholarship program offers multiple awards each year for minority students, with a maximum individual award amount of $10,000. This award is available for undergraduate students with permanent addresses in the southern states of Georgia, South Carolina or Alabama and has an annual deadline of October 30.
With a broad eligibility base, significant award amounts and name recognition, winning a Coca-Cola Wal-Mart Scholarship would look impressive on any young professional's resume.
SanDisk, a manufacturer of flash memory cards for mobile gaming, computers and cameras, is the major sponsor of an excellent scholarship program for young African- American students pursuing college degrees in engineering, computer science and related fields. A four-year, renewable award with a maximum amount of $10,000/year, the SanDisk scholarship is an exceptional academic scholarship for African-American college students interested in pursuing a STEM (science, technology, engineering, and mathematics) degree. The application deadline for the next group of scholarships will be in late April 2015.
Davis Scholarship for Women in STEM
Another first-rate scholarship for minority students is the Davis Scholarship for Women in STEM. This scholarship offers a one-time award of up to $10,000 and is designed to encourage minority female students to pursue careers in the STEM fields. This scholarship is awarded to a full-time student at a United Negro College Fund (UNCF) member institution, with preference to students from Massachusetts (though open to residents of all US states). The deadline for the next round of Davis Scholarships is June 6, 2015.
The National Association of Black Journalists/CNN Scholarship
The National Association of Black Journalists (NABJ), in partnership with CNN, offers the NABJ/CNN Scholarship for aspiring African-American broadcast journalists. There are four awards available each year, and the competition has an annual deadline in mid-March. The maximum award is $25,000 ($6250/year renewable for four years). Unlike some other merit-based scholarships on this list, this award doesn't require applicants to live in any specific state or attend any specific school, as long as they are pursuing an undergraduate degree in broadcast journalism.
UNCF/Merck Undergraduate Science Research Scholarship Awards
In partnership with the United Negro College Fund, the Merck Foundation administers a number of $25,000 awards for African-American undergraduate students pursuing careers in biomedical science. The application period for 2014 will begin later this year, and 15 awards are available. In addition to the notable summer internship component that pairs UNCF/Merck Undergraduate Fellows with Merck mentors, this program also offers professional guidance for young people interested in biomedical research sciences.
The National Achievement Scholarship Program
This prestigious program has been around since the early 1960s and is administered by the National Merit Program. The scholarship honors outstanding performance on the Preliminary SAT/National Merit Scholarship Qualifying Test (PSAT/NMSQT). African- American high school students can request entry to the program by marking Section 14 on the PSAT/NMSQT answer sheets.
This program is outstanding because it offers students the opportunity to have themselves recommended to prestigious universities by the PSAT program even if not selected for a National Achievement Scholarship. Both single payment $2500 Scholarships and larger renewable Corporate-sponsored Achievement Scholarship awards are available to a number of winners.
Gates Millennium Scholars Program
This impressive program offers 1,000 awards for talented minority high school students. Gates Millennium Scholars (GMS) receive full-tuition, good-through-graduation scholarships that are valid at any college or university of the student's choice. The 2015 GMS application will be available beginning August 1, 2014.
Open to US high school students of not only African-American but also Latino, American Indian/Alaska Native, and Asian Pacific Islander backgrounds, GMS is administered by the Bill and Melinda Gates foundation.
This program offers a renewable $10,000 award ($40,000 total over four years) to outstanding African-American high school seniors for use at any four-year college or university. We love the generous award amount as well as the flexibility it offers for students to attend the schools of their dreams.
The Ron Brown Scholar program's annual deadlines are in early November and January. The scholarship offers an excellent opportunity for high school students demonstrating outstanding academic and leadership credentials combined with significant financial need.
The United Negro College Fund General Scholarship
The United Negro College Fund (UNCF) General Scholarship offers multiple awards of up to $5,000 in value to outstanding scholars at UNCF member colleges and universities. Students must be currently enrolled in a UNCF member college (high school students are not eligible to apply). This scholarship supports UNCF member schools and HBCUs as well as offering a larger availability of awards compared to many other programs. The annual deadline is in late May, with the 2014 application closing on May 31, 2014.
The Jackie Robinson Foundation Scholarship
The Jackie Robinson Foundation grants outstanding minority high school students with impressive leadership potential, academic performance and financial need renewable four-year scholarships worth up to $24,000. Available only to graduating minority high school seniors, scholarship recipients must have plans to attend an approved U.S. institution. The award's focus on leadership potential as well as its availability for high school seniors makes it an ideal supplement to an existing financial aid package for an exceptional African-American high school senior. The annual deadline occurs in February, and the 2015 application will go live in late 2014.
Posted By: Will Moss
Tuesday, February 10th 2015 at 11:39AM
You can also
click here to view all posts by this author...