You are a Black American and a NEW race and that you are concerned about your Black American people descendents of plantation slaves near and far dispersed throughout the four corners. Deuteronomy 28
Before I explain how wrong you are first let me say what an excellent job the old White slave masters have done to make you and many, many other Black Americans ignorantly dumb and stupid!
First Iíll explain what the Christian Bible is including the Book of Deuteronomy. The Bible is a spiritual book and that makes it a very personal and private book only to the people and their descendents that wrote it.
The Old and part of the New Testament is about the Jewish people and how God helped them in their times of need and trouble with other races of people.
For example, the Book of Exodus is the testimony of Prophet Moses and the Children of Israel and how God helped them to get away from Pharaoh.
The New Testament begins after the crucifixion of the Jewish Jesus by Apostle Paul who was blinded on his way to Damascus by the crucified Jewish Jesus. Paul began his ministry in Europe in places like Antioch, Athens, Greece, Rome and etc. It was in Antioch the word Christian was invented when the converts asked what shall they be called and Paul said Christians.
So, the Christian Bible is the sole religious and spiritual book of the European gentiles ONLY!
Black Americans are not written of in the Christian Bible! As a matter of fact, Black Americans had not come into existence yet since the North American continent was not discovered yet where plantation slavery began and Black Americans came into being and that is why Black Americans are a NEW race of people.
You are just being ignorant, dumb and stupid embracing the book of Deuteronomy 28 big-time!!
The old White slave masters had make our ancestors and us so dumb and stupid that when the truth and God come for us we will reject the truth and God to hold on the Christian religion of the White man.
Black Americaís religion is named LIFE. Black Americans are racially different from White Americans and therefore we should not have their Christian religion; we must have our own religion and spiritual book.
You must abandon the White manís Christian religion and grab on to you own religion and your own prophet as well to enter into our own sovereign country.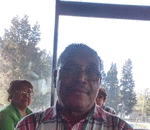 Posted By: Harry Watley
Monday, December 15th 2014 at 7:32PM
You can also
click here to view all posts by this author...