TAKING IT TO THE STREETS is dedicated to bringing you anointed preaching and teaching from some of God's finest. We are not interested in gossip, trends, or the latest and greatest in the entertainment business, but we are dedicated to bringing the word of God in application in order to bring about transformation in the hearts and minds of men.
My new preaching and teaching series, entitled "Word Up" was created because here at Taking It To The Streets, God's Word is what's up, and I have been blessed to find some of God's finest anointed men and women who are standing at the ready to break the bread of life, so that all men may have an opportunity to learn how to live a transformed, and abundant life.
This week I am joined by Brother Lester Carver who is an ordained teacher that is the producer of his morning program; Tuesday Teaching with Lester Carver on the Spirit Alive Network. He is a devoted husband and father that is doing wonderful things for the kingdom of God. Yes indeed, he is an architech by profession, but he is also a builder of the human spirit! Brother Lester teaches God's word in way that brings about real deliverance in the hearts of men. He is also a devoted husband and father who resides in Indianapolis Indiana area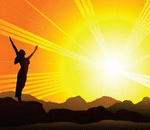 Posted By: Lila Robinson
Tuesday, November 18th 2014 at 9:53AM
You can also
click here to view all posts by this author...