TAKING IT TO THE STREETS brings you anointed preaching and teaching from some of God's finest. We are not interested in gossip, trends, or the latest and greatest in the entertainment business, but we are dedicated to bringing the word of God in application in order to bring about transformation in the hearts and minds of men.
If God created us to be lenders and not borrowers, why are so many Christians in debt? God wants His people to be in a position where they are not engulfed in debt. Deuteronomy 28:12 declares that "The LORD will open the heavens, the storehouse of his bounty, to send rain on your land in season and to bless all the work of your hands. You will lend to many nations BUT WILL BORROW FROM NONE." So, if this is true why is it that so many Christians are unable to give to God, or reach out to help others, because they are enslaved in debt themselves? Join me to learn the answers to these questions and so much more about what God has to say about His children living with debt.
As the holiday season approaches, many Christians are finding that they are still in debt from the last holiday season, but yet, they are still already planning to go into even more debt. Why? How do we as Christians justify this attitude, and why would we want to? Join me Monday as we look at the attitudes of man towards debt, and what the word of God has to say about it. It's time to "word up" in order to have victory in every area of your life, so join me this Monday in order to learn how to break the "debt cycle" in your life.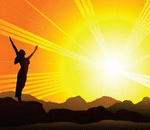 Posted By: Lila Robinson
Tuesday, November 18th 2014 at 9:01AM
You can also
click here to view all posts by this author...