This weekend of Dec 20th was to be the weekend when the retail stores was to recapture loss profits. It was to be the weekend before Xmas alias when Americans was to spend on many many gifts. Yet, if you live in DC, Virginia, or New York it was a blizzard with 2 ft of snow. It was a statement from the Almighty that He is upset with the authority. It Pittsburgh people were pushing there car up hills then jumping in them when the car got moving from being stuck in the snow. This snow came at the very worst time for the store managers and owners. But America has blood on her hands and God apparently in not happy with America.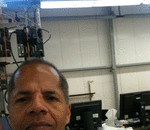 Posted By: jamal Abraham
Sunday, December 20th 2009 at 2:09AM
You can also
click here to view all posts by this author...