Look what they did to Michael Jackson, James Brown, OJ Simpson and now Tiger Woods. They built these very talented ignorant brothers up to be great black stars. They seemed to have everything a black man would want. It was common for them to cheer and want their autograph. Then, at the first opportunity, they tear them down and pick away at their money until they have to leave the country or who knows. We we learn from this is that it is better for God to build you UP then there is no one who can tear you down. And for God to build you up ....you must strive to be among the righteous.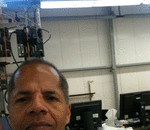 Posted By: jamal Abraham
Friday, December 18th 2009 at 10:41PM
You can also
click here to view all posts by this author...