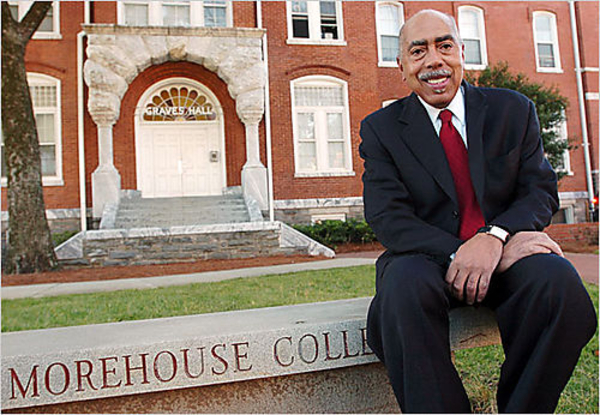 Appropriate Attire Policy
Morehouse College is d ed icat ed to the total development of young men. As such, we strive to instill in the hearts and minds of every young ma n, the foundational principles of appropriate conduct and attire. This commitment is design ed to achieve an important objective of the Morehouse mission, "to develop men with the values, knowl ed ge, and skills essential to impact the world as leaders."
The 10th president of Morehouse College , Dr. Robert M. Franklin, Jr., has call ed for the College to produce "Renaissance Men with a social conscience and a global perspective to uplift and serve." In order to implement his vision, he has develop ed the "Five Wells: well read, well spoken, well-travel ed , well dress ed and well balanc ed ." In accordance with the fourth "Well," students' dress at Morehouse College should reflect high standards of personal self-i ma ge. Each student must promote and port ray a positive i ma ge and properly represent themselves and the College.
It is our expectation that students who select Morehouse do so because of the College's outstanding legacy of producing leaders and its reputation for developing and enhancing students holistically. On the campus and at College-sponsor ed events and activities, students at Morehouse College will be expect ed to dress neatly and appropriately at all times. The following are examples of appropriate attire for various occasions:
Classroom, Cafeteria, and College offices - neat, modest, casual or business casual attire.
For ma l programs in Martin Luther King Jr. International Chapel, Opening Convocation, Founder's Day and other college functions - business or business casual attire.
Interviews - business attire.
Social/recreational activities, residence hall lounges (during visitation hours) - modest, casual or business casual attire.
Balls, Galas, - for ma l and semi-for ma l attire.
Students who choose not to abide by this policy will be deni ed admission into class and various functions and services of the College if their ma nner of attire is inappropriate.
If students have questions regarding attire for different functions or desire further clarification on what is consider ed neat, modest, casual, business, semi-for ma l or for ma l attire, please consult staff in the Office of Student Services in suite 200 of the Kilgore Center .
Examples of inappropriate attire and/or appearance include but are not limit ed to:
No caps, do-rags and/or hoods in classrooms, the cafeteria, or other indoor venues. Do-rags should not be worn outside of the residence halls. This policy item does not apply to headgear consider ed as a part of religious or cultural dress.
Sun glasses or "shades" are not to be worn in class or at for ma l programs, unless m ed ical documentation is provid ed to support use.
Decorative orthodontic appliances (e.g. "grillz"), be they per ma nent or removable, shall not be worn on the campus or at College-sponsor ed events.
Jeans at ma jo r programs such as, Opening Convocation, Commencement, Founder's Day or other programs dictating professional, business casual attire, semi-for ma l or for ma l attire.
Clothing with derogatory, offensive and/or lewd messages either in words or pictures.
Top and bottom coverings should be worn at all times. No bare feet in public venues.
No sagging – the wearing of one's pants or shorts low enough to reveal undergarments or secondary layers of clothing.
Paja ma s, shall not be worn while in public or in common areas of the College.
No wearing of clothing associat ed with women's garb (for example, dresses, tunics, purses, handbags, pumps, wigs, ma ke-up, etc.).
Additional dress regulations ma y be impos ed upon students partici pat ing in certain extracurricular activities that are consider ed Morehouse College auxiliaries (e.g. athletic teams, the Band, Glee Club, Forensics, etc).
The College reserves the right to modify this policy as deem ed appropriate.
All administrative, faculty, students and support staff members are ask ed to assist in enforcing this policy and ma y report disregard or violations to the Office of Student Conduct.
Failure to comply with this policy is a violation of the Code of Student Conduct. Students ma y be given a verbal warning to correct their attire by a faculty or staff member. Should the student choose not to abide by the directives of a faculty or staff member, this is a violation of our Code of Student Conduct for "failure to comply," then they will be referr ed to the Office of Student Conduct. Violators will be subject to our Code of Student Conduct and sanctions up to and including expulsion from the College.
If for religious, m ed ical or cultural reasons a student is unable to comply with this policy, the student must: (1) ma ke a request to the Vice President for Student Services in writing; (2) provide requir ed documentation; and (3) secure written approval from the Vice President for Student Services.
This policy is effective October 12, 2009 and applies to the Morehouse College campus and College-sponsor ed events that are held off-campus. This policy also applies to all students taking courses on the Morehouse campus, regardless of institution affiliation, and guests on the campus.
Kimberly P. Cole man
Executive Administrative Assistant to the Vice President for Student Services
Morehouse College
Posted By: Will Moss
Saturday, October 17th 2009 at 7:26AM
You can also
click here to view all posts by this author...