Home > Blogs > Post Content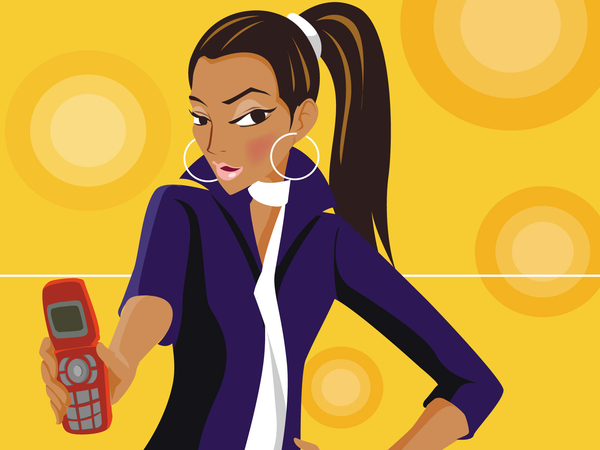 I was on a website when I came across this topic.
Is marriage going to be a thing of the past and just living together will be the future?
It seems this will alway be a moot point.
Here's the story:
_______________________________________________________________________________________________________________________________________________
[She Said] Is Marriage Just a Paper?
Posted by Kay Sea
Back in the day marriage was a standard, not an option. If a man knocked his girl up, they had a shot gun wedding, continued to have children and more than likely stayed together out of obligation. Today, however, couples have found a loophole to attain all the attachments of marriage without the title.
Here's a very common scenario that is often debated among today's young couples and marriage vets of yesteryear: A man and a woman have been shacking up for the past three years or so, and everything is close to perfect. The issue of marriage falls upon them and they figure, why not? We've been together forever now so what difference would it make, we might as well. They take the plunge, and a short year later they divorce. The burning question remains, what is it about that piece of paper called a marriage license turns the dynamics of a relationship up-side-down? Young folks today obviously recognize that it's much easier to commence a marriage than it is to void it, so what's the point?
As there is nothing new under the sun, the same problems that plagued marriages then could destroy any union today. What has changed is the necessity of nuptials all together. Nowadays a lot of women feel that if maintaining a relationship without the legal title is what it takes keep the love alive, then so be it, because a paper doesn't determine the love, longevity and livelihood of a marriage.
Livesteez sat down and asked a group of women: Is marriage overrated? Let us know what you think.
Honestly, the only reason why I would get married is for insurance purposes. Like, if my guy had a life insurance policy and I'm having his children and playing house for years, then yea. If he croaks, I'm gonna need to maintain the security of my homelife for my children. I know it sounds terrible, but don't forget marriage is a business transaction and if my guy has no assets, then marriage is pointless and we could continue to love each other while shacking up. - Nicolette, 29, Attorney
Marriage to me is just one of those things that seems less and less tangible as I get older. You know when you are younger you think I graduate from high school, go to college, find my husband in college and marry him right after graduation and start a family, and live happily ever, but I think somewhere along the way that Disney, cherry-coated, "in a perfect world" fantasy wears off after life starts to get real. You grow up and realize that everything that you thought life was about just isn't simply achieved…
To read the rest of the post go to
http://livesteez.com/livestyle/read/74/She-Said-Is-Marriage-Just-a-Paper
Thanks for reading
Posted By: Candice Johnson
Friday, May 22nd 2009 at 1:36PM
You can also
click here to view all posts by this author...
This is kinda freeing. I don't think sis could handle the truth. Marriage has traditionally been a symbolic gesture of love and commitment. If she can do without the symbolism she should be able to do without the baggage of monogomy. I say this in this context only. Because marriage is a commitment that is meant to be taken seriously. Jerry Springer philosopher that he is said it prefectly "If you don't respect the commitment of marriage all you really had was a long date and when you got tired the date was over"
Friday, May 22nd 2009 at 1:48PM

I hate to get religious on you sistah, but here goes; when you're living together without being married you're living in sin. Satan is not gonna' bother you as long as you're living out of God's will. When you decide to do what is right in the sight of God, that's when he begins to attack you. That's when your 'perfect' relationship starts to go south. And then too that may happen because either it's a test for you to overcome, or that person may not be the one the Lord has for you. It's just hard to say but marriage isn't overrated. It's not as easy as you'd think but it's well worth the effort when you are with the right person.
Friday, May 22nd 2009 at 2:25PM

Daniel and Mozell, I totally agree. Speaking as a married woman...a proud married woman...it's is not overrated. It requires Godly wisdom and obedience (among other things) so that each person understands their responsibilities to God, to each other and to their children if they have any. My marriage is like a Holy Corporation where God is the Chairman of the Board, CEO and CFO, my husband is the COO (President), I am the Executive Vice-President and our children are lower level managers.

And this does not a slave to my husband make. I'm just a woman who has taken the time to study my role as a wife (help mate) and I take it very seriously. My husband is the head of my household...not the ruler, but the head. God rules, we follow. My husband knows his role as husband and father and takes his responsibilities to me and our children quite seriously. It ain't always been easy, but it has and will always be worth it.

Besides, it's rewarding and awesome to be responsble for the matters of the heart of your husband or wife. It's an honor. We don't always get everything right and we've bumped our heads along the way, but we're still working it...thank you, Jesus. My primary life role is to praise God...to give Him all the glory. Everything and everyone else is secondary. It helps when both husband and wife understand that nothing and no one comes BEFORE God, not even each other.

Marriage is a lot of responsibility, but it sure is awesome. I'm thanking God for my husband now. Hmm...mmm....GOOD! Ooh, Jesus!!!! Hallelujah, Lord!!!! If you marry the right one, your worst day with him will still be better than your best day without him. . ;-)

-Blessings...

Friday, May 22nd 2009 at 4:01PM
Dee Gray
If anything, marriage is underrated. Sure, the divorce rate is up, but rather than blame the institutrion itself for that, consider the people who for whatever reason could not make it work. Its not easy, but when it works its a beautiful thing.

Friday, May 22nd 2009 at 8:48PM

Do all Black people think alike? Most, but not all

Marriage will soon be a thing of the past. Christianity is a dying fantasy and folks from all walks of life are starting to recognize that most matrimonies were holy -- and therefore, losing interest. Other ethnic groups have formed something called "Free Love" -- a social movement opposed to marriage. It's hard for Blacks to break away from what they've been taught and think freely. So it may take another couple of hundred years for "us" -- but we'll soon follow.
Saturday, May 23rd 2009 at 10:59AM
Craig Amos
Craig, I freely accept Jesus Christ as my Lord and Savior. LOL. You're so funny.

Blessings...
Saturday, May 23rd 2009 at 11:51AM
Dee Gray
I was directed to this post from one that wwas posted by Karen -- Is Marriage a Thing of the past?

This question is slightly different. The answer speaks to the health of our families and communities. The truth is that "marriage is underrated" in our Black communities today. Here is what I mean. We are looking at a generation that is less wealthy than the previous generation. Divorce rates are up; school dropout rates are up; seventy percent of our children go to school from single parent households headed by women; unemployment is higher in our communities; college attendance, and more importantly, graduation is declining (29% among Black males at HBCUs). When marriage was "highly valued" -- even shotgun marriages -- our progress in this country followed a positive trend, even in the Jim Crow South. The devaluation of marriage, and the substitution of shacking up, and baby mommas, and baby daddies for parents and famlies has ushered in a pattern of decline from which we will find it difficult to recover.

Families, sealed in bonds of marriage, are the foundation of strong communities. Strong communities are necessary to raise children to become productive citizens. When families cease to be the keepers of the values in our community, the children run amok. In the African Masai tribe, the warriors greet each other with, "How are the children?" The answer speaks to the highest value they hold dear -- "The children are well."

How would yur community answer that question today? The answer will tell you if "marriage is underrated."

We need to look at the bigger picture. Only strong families that build stronger communities will result in positive uplift our our people. Otherwise, the next generation of our children will be farther off the hook.

For those who haven't seen the other blog post, my wife and I have been married for 42 years. We have two children -- both married, and two grandchildren. We are holding dear to the values that our parents taught us (on both sides of our family, our parents were married until death parted them). If a family cannot hold dear to the values that bind them, what other relationships do they hold in higher esteem?

Yes, marriage is underrated, but it should be among the highest rated relationships that we aspire to have.

Roer Madison
www.izania.com
Tuesday, May 26th 2009 at 6:34AM
Roger E Madison Jr
I see maggriage liscens as the only thing that can get you a divorce. My husbans is truely my great friend. WE can talk, laugh, share the same bed as well as the same bank account and never not know that the other is just a vital to this union as the other one.

If you and your husband /wife can not live in peace and harmoney then that piece of paper gets:lawyers rich, prisons ,grave yard and hospitals kept full and over run at times.But, if you have the opinion and belief as Hillary Clinton has about Bill not being abusive to her as adultry in her Christain values is redefined as L-O-V-E. But, then some people put that piece of paper as the problem cure all, say like ,"i I get preganat he will MARRY me" He will start to respect me and stop beatting me on such aregular basic. You know these are the things , "You have hear"!!!but, the best one is it is all for the children therefore leaving in denail things like 'if I do not kill him first or he kills me or he drops dead from a drug over dose.

Marriage is about respect, unity and things like is it working for my goal of being happy and secure...but, this is my take because I want the best, and most positive people in my life and even more if they want to share in my life. My marriage is not for show or public display to be put a value on in any way, for or fashion.
Thursday, April 10th 2014 at 6:47PM
ROBINSON IRMA
Now, I will say something about the quicky divorce( OR MOOT marriage deal), because it happened to me.With my first marraige we were together for for ever. We married for three years. Now the only reason we stayed married as long as we did was because we were in the military and if you live on base you can not get the residancy needed to get a divorce.My second marriage, we knew each other for a short time, never played house and have been married since the 67'.

My first marriage followed the old standard you must get married to live together and that old when are you going to have children. Back then we had that "old Maid" image to avoide. After we got married because this piece of paper was a cure all in 1962.The only thing I would not give in to was i could not marry the man I loved because he was not Catholic. This was the best decission(rebellion , I have ever done against moral laws)I say this because unlike the rich and famous Catholics, i could not afford to go to Rome and get permission from the POPeEto get a divorce,(you know how the Bible says that as Catholics you can not get a divorce!!!end of storybull) that is even if I were a male, Being a female whell you know how many rights we have in the matter...s*x is legal, ect(bull s---)

Remember me stressing being friends...my husband now and I are friends and so much so we do not take each other for granted nor follow the social rules of who plays what role in our marriage or our bed, etc. We do what is best for our relationship....

Nothing to do with that piece of paper that ask you to lie through your teeth about you can see the future and it is not with any problems thatyou will not even believe important enough to take the energy to work on inorder to save it from turning into a piece of paper that says divorce; so get ready to fight it out in a public and let the JUdge so his rulings on how you can live your life...over material things to prove who has the most money, power and biggest ego. it is not worth falling into allowing others to make up rules for you to keep your self, happy, safe and secure, Do this your self using your own powers!!!!
Thursday, April 10th 2014 at 6:47PM
ROBINSON IRMA
Blogs Home