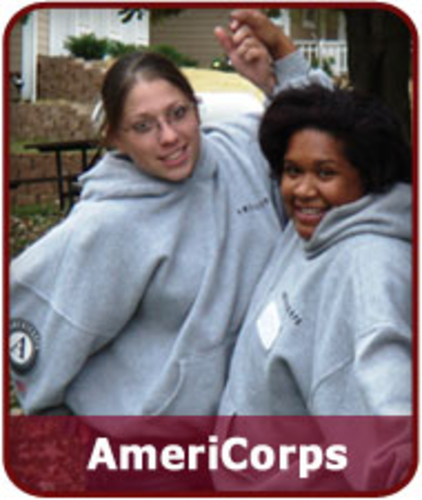 (Over 18-years of age no limit going forward) more info for you:
AmeriCorps NCCC (National Civilian Community Corps) is a full-time, team-based residential program for men and women age 18–24. Members live on one of five campuses, located in Denver, Colorado; Sacramento, California; Perry Point, Maryland; Vicksburg, MS; and Vinton, Iowa. for the young ones and for the rest of members:
Where can you serve in AmeriCorps State and National? AmeriCorps members serve in AmeriCorps State and National projects in every state, U.S. territories, and on tribal reservations.
Eligibility for AmeriCorps State and National: AmeriCorps State and National programs are open to U.S. citizens, nationals, or lawful permanent resident aliens age 17 and older. Members serve full- or part-time over a 9- to 12-month period.
What are the benefits? AmeriCorps members receive a modest living allowance, student-loan forbearance, health coverage, and child care for those who qualify. After successfully completing their term of service, they receive an AmeriCorps Education Award of up to $4,725. This award can be used to pay off qualified student loans or to finance college, graduate school, or vocational training at eligible institutions. Learn more about benefits of AmeriCorps service.
Dear Friend,
The Senate has passed the Edward M. Kennedy Serve America Act 79-19!
The legislation will now be reconciled with the GIVE Act. Once settled, the largest expansion of Service programs in our lifetime will land on President Obama's desk, waiting for his signature. This is a truly historic occasion, and this victory would not have been possible without your calls and letters!
Thank you so much for all of your work urging Congress to pass this legislation.
We're going to send Congress a Thank You note, and we're inviting the supporters of this legislation to sign! Click here to add your name to the Thank You!
Yours,
Alan Khazei
******************************************
Please note this includes funding for AmeriCorps.org. I have two of these vouchers for my two wonderful years volunteering to teach in the inner city and work with Homeless Veterans. For nine years I have held the vouchers totaling 7k until which time I decided in what area to focus on. It is with these vouchers that the tuition for the Univ. of S.F. will be paid, I decided to add a Master's Certificate in Internet Marketing to my other degrees. It's the wave of the future. You or your children are eligible. Please avail yourselves to these opportunities. Good Luck!
Posted By: Marta Fernandez
Thursday, March 26th 2009 at 10:52PM
You can also
click here to view all posts by this author...