Home > Blogs > Post Content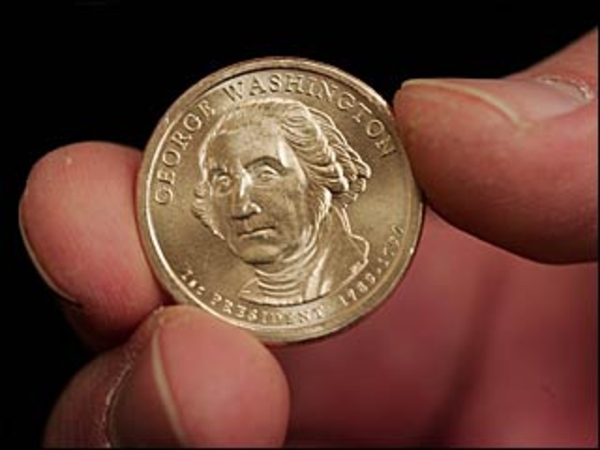 From: Jeremy Bratcher
Sent: Tuesday, March 24, 2009 12:35 PM
Subject: Refuse new $1 coins
REFUSE THE NEW $ COINS
This simple action will make a strong statement.
Please help do this...refuse to accept these when they are handed to you. I received one from the Post Office as change and I asked for a dollar bill instead. The lady just smiled and said 'way to go' so she had read this e-mail. Please help out...our world is in enough trouble without this too!!!!!
U.S. Government to Release New Dollar Coins
You guessed it
'IN GOD WE TRUST'
IS GONE!!!
If ever there was a reason to boycott something, THIS IS IT!!!!
DO NOT ACCEPT THE NEW DOLLAR COINS AS CHANGE
Together we can force them out of circulation.
Please send to everyone on your mail list!!!
Posted By: Marta Fernandez
Thursday, March 26th 2009 at 1:22PM
You can also
click here to view all posts by this author...
Wasn't this country founded on principles that separated religion and state? You might trust in God but for others [like me] he has to pay cash.

Besides, the story isn't entirely true. It's there, just on the edge of the coin.
Thursday, March 26th 2009 at 4:10PM
Craig Amos
Well I will pass your info to the person who sent it to me who works for the New York City Council AND her husband who works for Credit Suisse, and let's see what she says, will get back to you, sending these comments. Thanks.
Thursday, March 26th 2009 at 6:16PM
Marta Fernandez
is this fast enough for you? I called her..and while I take this e-mails with a grain of salt because her husband works at Credite Suisse Bank New York I lent it credibility,
Thursday, March 26th 2009 at 6:29PM
Marta Fernandez
PHILADELPHIA — An unknown number of new George Washington dollar coins were mistakenly struck without their edge inscriptions, including "In God We Trust," and made it past inspectors and into circulation, the U.S. Mint said Wednesday.

The properly struck dollar coins, bearing the likeness of George Washington, are inscribed along the edge with "In God We Trust," "E Pluribus Unum" and the year and mint mark. They went into circulation Feb. 15.

The mint struck 300 million of the coins, which are golden in color and slightly larger and thicker than a quarter.

About half were made in Philadelphia and the rest in Denver. So far the mint has only received reports of error coins coming from Philadelphia, mint spokeswoman Becky Bailey said.

Bailey said it was unknown how many coins didn't have the inscriptions. Ron Guth, president of Professional Coin Grading Service, one of the world's largest coin authentication companies, said he believes that at least 50,000 error coins were put in circulation.


Thursday, March 26th 2009 at 6:31PM
Marta Fernandez
I know you would have loved to have been right-! someone just warned me this morning it's all good,it's like the owner of this site who plays with my numbers, one day it was 25,001--and today it's 24, 900 something-I can only wish the haters, well and God Bless. This is why " A Friend Katherine " left--I will never forget her words ..I know when I am not wanted.
Thursday, March 26th 2009 at 6:36PM
Marta Fernandez
Marta you are wanted here by many people, one being myself.You always deliver very helpful and insightful blogs and comment post to others. Continue to speak the truth and shame the devil. Some people have been used to believing lies and misinformation for so long, that someone finally speaks the truth they don't know how to handle. Keep it coming Goddess.
Thursday, March 26th 2009 at 8:48PM
Marquerite Burgess
...This is why " A Friend Katherine " left--I will never forget her words ..I know when I am not wanted...

I was wondering what happened to all those nice thoughtful blogs... I miss her alot.
Friday, March 27th 2009 at 1:00AM
Jen Fad
The male energy..Jen..and not enough of us rallied behind her. we never know what a person has been through, she was very loving, she is the one that taught me some tech stuff on here, she was also unwanted by her mother so she was a delicate vulnerable flower. She knew the pain of being light skinned black, and we talked about it, as I know the resentment from not a few because, I am Hispanic. I have chosen to be part of the black community all of my life, so I am her by choice not by force.

And I am still here because so many of you encouraged me and showed so much love. Ms. Burgess! :-)

Now Irma, or shortie as I call you:-) you now dag on well this country was founded in its present state by Christians, if the British had not come and massacred the Indians and stolen their native lands, since their religion is "animism" the worship of all living things on this incredible planet earth (well you told me to teach my anthro here..lol) in which case then your perception would be applicable.

You are not alone in your thinking. The government puts Masonic emblems on its currency, we are FORCED to put our hands on the Bible in Court, we invoke God's name at the Inauguration of the President but we can't have prayer in school, you can't have religious symbols at official buildings, how insane.

To Corey, we live under lies and confusion in this country. What religious freedom? think about it. Share your thoughts, and did you apply for Americorps? (smiles)

Friday, March 27th 2009 at 8:58AM
Marta Fernandez
Wow. I know I'm new and I don't want to ruffle any feathers but in all reality I don't think God cares one way or the other if a nation that cannot take care of its poor, be courteous to its neighbor, show love to all without corruption, and give all its citizens access to what it claims it does puts HIS name or authority on it's currency, buildings or schools. It is us who are offended by these small discrepencies. Personally it doesn't matter because this nations moral is sooooo low, its sense of humanity is sooooo poor that it's actually an honor that it separates itself from God. Besides God doesn't look for actions He's more interested in your heart. This nations heart is confused, corrupt and cold.
Saturday, March 28th 2009 at 12:36AM
crystal smith
Loving each other outside of our difference's is key. Religion will take care of itself but we need to guard our hearts and actions for each other in love, compassion and honor.

I love you all don't take these posts the wrong way. But focus on what's really important. Look to Africa, India, Malaysia and so many of our neighbors that are really hurting. Look to homeless within our nation, the unemployed, the victims and maybe you'll see how much more important human life and love is.

Peace and may God truly bless all.
Saturday, March 28th 2009 at 12:41AM
crystal smith
You're right Irma but you speak of slavery as if African's were taken without regard. Slavery always existed in Africa. It was Africans who saw the slave trade as a way to make money and they sold their fellow men to white men for a profit. In fact all the way up the mid 1790's early 1800's did slavery become what most refer to it now. Prior to that slaves who were brought here were granted freedom for not only themselves but their families after an agreed upon period of slavery. I don't want to take away from the brutality of slavery but we all must know the real truth of it's evolution.

India just like Africa has a government that takes away from it's inhabitants. Because the people there are powerless to protect themselves we can enforce change through trade embargo's etc because alot of american money supports these governments, same for china and we know just about everything we buy has been made there.

Malasians are support by our tourism dollars so we can enforce change there as well.

You're right truth and love is BS because so many of us are not only ignorant to the realities of our past but also to just how they are not tied to God but to us.
Monday, April 6th 2009 at 7:28PM
crystal smith
????How do coin collectors fit into this????It seem that far too many of them were printed to make them worth too much like the unusual mistakes in printing does to make something much more valuable.

could someone please give an answer for me on this coin matter as I am nonChristian, nonJew, nor Muslim, but a born in America person who see this coin issue just like I see the PRAYER in school issue. Why must we be limited to only one 'Specific' (religious)version when we call this country a MELDING pot of EQUAL freedoms...
Thursday, April 10th 2014 at 6:47PM
ROBINSON IRMA
Marta, don't dare even mention leaving this site even in jest!!!!!You hear me loud and clear MISSY(smile)and love you much. As Marguerite says," keep it coming Goddess"...
Thursday, April 10th 2014 at 6:47PM
ROBINSON IRMA
...and I mean no offence either , but have you ever read the St. James version of the Bible and not seen any of what you were talking about in it????!!!In whose name were all of those babys killed, those innocent peoples slaughtered by Joshua?

I do not see changing the Bibles or the 10 Commandments from 'Thou shall not kill to thou shall not murder make killing anyone moral or legal be it in war or against people who are DIFFERENT.calling 'adultry' love makes it more Christian...?

Again I mean not harm ,but some how speaking the TRUTH is anti-Christian, American and acceptable to too many...GOOD PEOPLE...

sorry Marta but I got emotional and off topic.
Thursday, April 10th 2014 at 6:47PM
ROBINSON IRMA
...For Mother Africa, May America keep its poisoned foods and medicines out of this country. That the people of Africa now that President Obama has given them a public voice, continue to expose those American money backed dictators and oil barons until we can find out just how much money the Clintons and mcCains earned with investing in those years and years of genocide in Africa.

India first must stop starving their own peoples because they are using their own form of racism called classism!Or legal separate is EQUAL in India's Jim Crow legal custom in this century.

Don't the people of Malaysia Chant?!?And son't they have dark skin to boot??!!?

Enough about this truth and love for our fellow human kind, Bull S--t!!! I will accept and willingly pass on the Peace part.The rest is too directly tied to slavery for me. Please take special note, I only speak for me.And, maybe Anthropology findings influences (smile)
Thursday, April 10th 2014 at 6:47PM
ROBINSON IRMA
Blogs Home