Home > Blogs > Post Content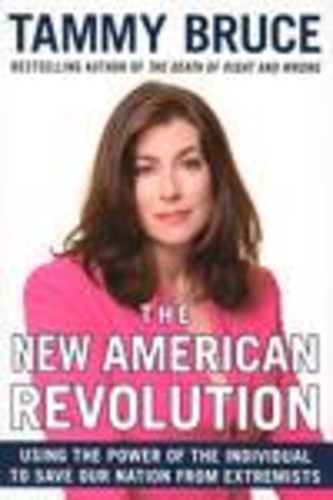 Tammy Bruce, guest host for Laura Ingram's radio show, had some harsh words for First Lady Michelle Obama.
Discussing the first lady's visit to a Washington D.C. classroom last week, Bruce incredulously recalled Obama's story about wanting to get A's in school and called out her use of a "weird, fake accent."
"That's what he's married to," Bruce said. "...You know what we've got? We've got trash in the White House. Trash is a thing that is colorblind, it can cross all eco-socionomic...categories. You can work on Wall Street, or you can work at the Wal-Mart. Trash, are people who use other people to get things, who patronize others, who consider you bitter and clingy..."
What is the subtext here? "that's who he is married to.? so who should he be married to white girl? a white girl? These kinds of words have never been publicly lobbied against a sitting First Lady. This started when brother Mozell brought to my attention that Michelle Obama made a statement about speaking white and the kIng's English.
I have watched her make errors while speaking in public. You cannot talk "sista talk" to the media. I know she means well, but it isn't the first time, am thinking "please stick to gardening, the latest style and rearing Malia and Sasha."
This annoys me on two levels,there are sisters walking around here talking about, I'm Black, my community is black and I support black, okay then let me see you sit down and write a letter in support of our beautiful "black sister".
Lip service, dis-unity, self-oriented. Soul? what soul? people with a soul speak out. Strong? people with strength write letters, make calls, join up and smash the offending force.
I had to delete a stupid e-mail from a woman on this site, who wants to let me know how Black she is, oh please. It's not just about buying black, living in a black community it's more than that.Right now, white folks are leading and defending Obama.
Sisters don't come together as a social-political force because there is no love it's just talk.
Posted By: Marta Fernandez
Monday, March 23rd 2009 at 5:36PM
You can also
click here to view all posts by this author...
I am livid!!! I would really like to put "a real beat down on this chick!! I really don't get her.
Please correct me if I am wrong, but I have always been under the impression that trash was a derogatory term that other white use for other white people who are either poor, uneducated, or both. In the south the term is "poor white trash"
or "trailor park trash".
So for this clueless chick to attempt to label First Lady Obama as trash, I am really not getting it!! I still would like to put a real "beat down" on her right about now.

..."that Michelle Obama made a statement about speaking white and the kIng's English"...

I missed out on this ...what did First Lady Obama say?
Tuesday, March 24th 2009 at 12:25AM
Jen Fad

Hello Jen,

Please let me explain from a political perspective. You are quite correct in your understanding . " when she was little she said she was accused of talking white, and she said she was going to get her A" her parents probably supported that, and it probably helped her in law school. She may have wanted to stem the tide of ebonics or she may have wanted to make another child who would be called out like that to feel that it is ok for he/she to "speak white" which means speaking standard English.

Tammy's strategy is to "take her down a notch'" to get that uppity n* of her high horse, to resonate and connect with her white trash audience, to say look she is a phony, she is not a high fallutin Black like her husband, the media manipulation is harsh and fueled by telling lies and having your followers believe it. They know that their audience is ignorant and uninformed so they take advantage of it.

More than a million "white folks " on her show who are lower class now have heard this, and this site with about 10 thousand people want to cover their ears, there are the kinds of whites I had to contend this at the local coffee shop that I finally broke away from after a customers comment on Islam. These smart aleck white folks who think they know everything did not even know that Condoleeza Rice was the Secretary of State last year. Some of these under educated whites make 80k a year working where? in civil Service jobs along Black folk who speak poor English. She made a statement that made millions of whites happy endeared her to her listeners got her some attention , and basically in a white girl in your face move is saying "so whatcha gonna do about it"?

Watch the other white folks on the Obama team start writing petitions. I feel so bad.
I hope this helped to give this issue some perspective for you.
Tuesday, March 24th 2009 at 9:47AM
Marta Fernandez
have been hearing this since forever. I was told I talk white,but I let that roll off since I had to learn English it would be kind of dumb to learn it improperly.I also realize that assumptions were made as to who I am. I have lots of wonderful Black American friends who do not speak standard English, I don't judge them that's their choice. Some Black folks who are surrounded by the typical valley girl speech patterns and inflections pick the intonations,so?I blogged on these issues a long itme ago. Marketing consists of word or words that evoke an emotion whether the allegation or charge is correct or not such a s "hater" for example. :-)
Tuesday, March 24th 2009 at 10:20AM
Marta Fernandez
In the money-world of America you are never a zero when you have a million followers. Get real as if as a businessman didn't understand the bottom line, your reaction surprises me, as if not knowing what they are up to and how they can use this fodder to fuel rage amongst the Evangelicals frankly has left me wondering.

I understand the need to vent,as I do it when something really gets to me,but to just talk about this Tammy Bruce as if she wields no power is not understandable to me. Right now she has more power and pull than any of us and that is a wrap.

I didn't know who she was before, but I do now and that's a good thing, keep your enemies close,gosh didn't you read "The Art of War?"..oh I forgot you are an engineer. The Valley girl; that I have heard in young Black women does not use "like" Clark, she just has that high whinny voice, and says "thank you" about ten decibels high. There are a lot of black white people and white black people ,love your inputs, I'd just wish you stop trying to earn brownie points, nor am I going to kiss a** to get along ,I am not afraid of the dumb stuff from White , Black or Latino people. Which is why I don't join lynching mobs from either side.

When you get your head clear, come back and take a different perspective, the politcal and marketing there is nothing new that you wrote about Michelle Obama that we didn't already know. I don't recall her being a "partner" in the law firm she worked at. Here is the facts: Career in Corporate Law:
After graduating from Harvard Law School, Michelle joined the law firm of Sidley Austin as an associate specializing in marketing and intellectual property. In 1988, a summer intern two years older by the name of Barack Obama came to work at the firm, and Michelle was assigned as his mentor.

See this is what happens, when you assume your Black Sisters are not onthe ball--I do my research..so people just talk,talk talk--but I know you love our First Lady just as I do so I will give you a break! lol (you better act like you know) as my eldest always tells me!

I strongly suggest that you stop assuming that you are talking to everyday Jane.
Tuesday, March 24th 2009 at 12:23PM
Marta Fernandez
...Watch the other white folks on the Obama team start writing petitions. I feel so bad.
I hope this helped to give this issue some perspective for you...

Absolutely helped... and I would like to sign the petition. Please let me know where I can sign it. I don't think this woman should be ignored. She should be reprimanded and embarrassed as well as she should issue a formal apology to the nation. I refuse to ignore her bigotry. Why should I?? I feel insulted as a woman of color and this nonsense should not go with black folk being apathetic!!

Tuesday, March 24th 2009 at 1:43PM
Jen Fad
...Although I didn't really get Rev. Wright...Fox News, CNN, Rush LAMEbaugh didn't keep silent... I'm still livid and my blood is boiling OVER!!
Tuesday, March 24th 2009 at 1:45PM
Jen Fad
Thank you--you are the only A.A. woman who has expressed some outrage and willing to do whatever, let me get back to you, as for that lameness on her being called a b word,that is par for the course business as usual this is different.

Give them a few days while they marshall their forces together. I will let you know. Thanks for sharing the pain.

Tuesday, March 24th 2009 at 3:30PM
Marta Fernandez
Trash is colorblind--trying to see what is underneath this statement. Is it all white trash are like n***? so my, followers are white, but we are not colorblind? as in we are white we want to take back our country. I have to go research the ultra-right, and kkk sites let's see what is at the bottom of this nasty lagoon. She has to be put in check, the same way they put Jesse in check for his "hymietown" remark.
Tuesday, March 24th 2009 at 3:39PM
Marta Fernandez
BTW you said she HIRED him, my point that went over your head is that only partners at a firm do the hiring..but you wouldn't know that. I would. and I do.

It's your perception versus the power of the media. I do love the statement you attribute to Jack & Jill.
Tuesday, March 24th 2009 at 6:31PM
Marta Fernandez
....and you should blog the above. That was clear concise and you made the perfect analogy. Mel Gibson only uttered a scriptural writing. This is blasting the wife of a sitting President and as far as I am concerned it is not to be ignored. If I walk up to your wife and called her a name at an open meeting with lots of people around somebody is going to check me. It is NOT okay to insult Black women, and I feel the same way Jen does. It is not open season and she is not going to open the floodgates so someone else can come along and just say what they want in public about our First Lady.
Tuesday, March 24th 2009 at 11:36PM
Marta Fernandez
Marta,
I was revising and deleted the statement you commented to above. I was trying to be sure of what Gibson said. What he said was even worse. He said Jews started all the wars, but anyways...there are lessons to be learned from the Jewish community.

Wednesday, March 25th 2009 at 12:10AM
Jen Fad
There are lessons that can be learned from the Jewish community. Jewish people take action when people make anti-Semitic comments by standing together to demand public apologies and cripple the financial means of that person. As big as Mel Gibson is, he was no match for the Jewish community. Gibson was reprimanded and called out on the carpet by the Jewish community for alleged anti-Semitic remarks he made while in a drunken stupor to a Jewish sherrif.

... {Abraham H. Foxman, national director of the Anti-Defamation League, called Gibson's apology "unremorseful and insufficient." Prominent Hollywood talent agent Ari Emanuel called for an industry boycott of Gibson in a blog posted Monday. "At a time of escalating tensions in the world, the entertainment industry cannot idly stand by and allow Mel Gibson to get away with such tragically inflammatory statements," he wrote. "People in the entertainment community, whether Jew or gentile, need to demonstrate that they understand how much is at stake in this by professionally shunning Mel Gibson and refusing to work with him, even if it means a sacrifice to their bottom line. "There are times in history when standing up against bigotry and racism is more important than money."}

http://www.sfgate.com/cgi-bin/article.cgi?...

How much more should this poor excuse for a human being Tammy Bruce be put in check? I want her to feel it where it hurts her most...financially. She would not feel empowered to make ridiculous and outrageous statements about the First Lady of the land if she knew there would be financial repercussions. She should be fired.
Silence is not an option hereÖaction is needed, not just by black people but all Americans. I just donít get it. I don't know about anyone else out there, but there is a fine line between freedom of speech and outright attacks on a group of people. I might not be Michelle Obama, but I can identify with her in many ways. I'm a college graduate, a working woman, a wife, a mother, and I am passionate about people. Does that make me trash??

Wednesday, March 25th 2009 at 12:13AM
Jen Fad
..."if you think I'm saying its okay to insult black women, you're missing the point. My point is, check Bruce and move on"...

Brother Maxwell I don't think Marta or myself or any black woman for that matter would ever think you thought it was okay to insult a black woman. As handsome as you are, I am sure you're married with beautiful daughters...yes? God forgive me if I am wrong, but in my opinion when things are happening many feel that we should just ignore the person and hope that the person goes away without taking action while the person continues to gather people to themselves.

Isnít this a form of apathy? Apathy it's plaguing many black communities and I just donít understand why. Why must we have to wait until a situation is in dire straits before we take action? Perhaps we should call on the Rev. Al Sharpton or the Rev. Jessie Jackson to fight for First Lady Obamaís honor? In all seriousness, I am glad to know you will be one of the first to sign a petition defending First Lady Obamaís honor! Much love to you Brother Maxwell. (((smiles)))


Wednesday, March 25th 2009 at 12:07PM
Jen Fad
Point "well" taken Brother Maxwell!! (((smiles)))
Wednesday, March 25th 2009 at 2:25PM
Jen Fad
I seem to never agree with Marta, so I must comment. Michelle Robinson gave a good looking light guy some joy and then marched him into Reverend Wrights Silliness, that almost cost the OBAMA family the Leadership of the WORLD. But a woman should just be waiting for a Man, at home, smelling good, clean and READY.
Wednesday, March 25th 2009 at 4:42PM
robert powell
Ur ok, today robert--you are right and u r agreeing with me--she needs to stay home and look pretty-take care of kids--and enjoy her non-paid- job that she was volunteered for! ok--just peeking in--too busy working on projects!!
Wednesday, March 25th 2009 at 5:49PM
Marta Fernandez
I go you beat Clark--I worked on Percy Sutton for Mayor in 1976. I worked for Assemblywoman Chris Giuchigliani, Assemblywoman Barbara Buckley, Mayor Jan Jones all Las Vegas, and was the Hispanic Representative for Former Governor Bob Miller D-Nevada-- your problem as I told you months ago and I was right I see you have a dismissive attitude toward women. I bet if you want to compare my curriculae vitae and education against yours I HAVE YOU BEAT-- You my dear have problem with smart intelligent women,I told you that before you denied it and told me about your sisters-so Ichilled,now you have proven by your remarks and the way I observe how you don't stand your ground when the men on the site opine differently--I can run circles around you any day of the week..starting with our convo on the cuban economy! LOL --this year on top of all my other degrees I am doing a Ph.d anda Master's in internet marketing you are not a match for me---love you to death--but I am a Goddessess and you are not unless you wear Victoria's in Secret! I have gone toe to toe against white men, you are a piece of cake.
Now about Michelle--all we have to do is sit back with our arms folded and watch--nes't ce-pas?
Wednesday, March 25th 2009 at 6:02PM
Marta Fernandez
ya let the white gal' bogard and get away with it! and that as Mozell would say" that's a wrap.ok--15 minutes of my time--buh-bye!
Wednesday, March 25th 2009 at 6:06PM
Marta Fernandez
I'll keep this short and just answer with Madea: It ain't what they call you; it's what you answer to.

And I hardly think Michelle Obama is giving this any consideration. I'm sure she doesn't call herself trash and probably found this so absolutely empty-minded and ridiculous, it's laughable.

This did not upset me. It made me laugh. Seriously...some woman I've never heard of speaking empty, useless words about a woman she obviously doesn't know. Talking about it only gives it power. The more talk that goes on about it, the more this silly woman's name gains momentum. I'd like to not give her that.

Blessings...
Thursday, March 26th 2009 at 1:12AM
Dee Gray
Mr. Maxwell, I agree with you. Blow the dust off the counter and move on.

Blessings...
Thursday, March 26th 2009 at 1:15AM
Dee Gray
Women haters. Female and Male. What a shame. YOU are not Michelle Obama hardly and will never be definitely. She is a note worthy individual as such she should have the backing of her sisters for one, and all decent people for another.

She was never homeless or had to live in the street- presumably. ::::::

As for Clark, u asked for it, as you well know from our convo's we are not on the same page as the folks who read this.


Sunday, March 29th 2009 at 3:12PM
Marta Fernandez
I will put it this way...This person (Tammy Bruce)is RIGHT in step with the closed and prejudice minds of the CONSERVATIVES. If she had said anything that was different than what those on the right has to say about 'anyone' who are Democrats, then I would be worrried-suprised or even concerned!Because, this would be a sign that we as free peoples have something to content with:something NEW and worth paying attention to from the other side of this political, public interest equation.
Thursday, April 10th 2014 at 6:47PM
ROBINSON IRMA
Marta, Marta, Marta...NOw that Tammy seem to be the apple of Bill O'Reilly's eye Tammy may be replacing Laura on Bill's THE FACTOR...who knows thesse two may end up calling each other names.that is if Bill is able to keep his program.The news papers seem to be joining UPS in dropping O'Reilly. Media racist leading media racist off of our public air waves...
Thursday, April 10th 2014 at 6:47PM
ROBINSON IRMA
Obama needs to keep up with what he knows will will continue to promote racism. Black lives matter, George Floyd . Goes on about his music and his playlist. Beyonce definitely included . The Obama's are only embrace the black community. This all of this drama has has begun to fade away away! Let George Floyd rest in peace . Why do they insist on and purposely opening up the past . The Obama's girls have made racist remarks remarks . They are going to be allowed to say and anything they want want . Sasha with her comment stating that she was offered her own show show called baby mama drama. She replied no thanks that is to white trash for for me. At the same time on tic tok lip sinking and and looking a little trashy herself
Friday, July 30th 2021 at 6:02PM
Melissa Chavis
Obama will continue to keep up with what he knows will continue to promote racism. Black lives matter, George Floyd . Goes on about his music and his playlist. Beyonce definitely included . The Obama's only embrace the black community. To much of the same drama, which has begun to add itself with history. Let George Floyd rest in peace . Why do they insist on and purposely opening up the past . The Obama's girls have made racist remarks . They are going to be allowed to say and anything they want . Sasha with her comment stating that she was offered her own show in the white house called baby mama drama. She replied no thanks that is to white trash for me. At the same time on tic tok lip sinking and looking a little trashy herself Friday, July 30th 2021 at 6:02PM
Friday, July 30th 2021 at 6:47PM
Melissa Chavis
Blogs Home