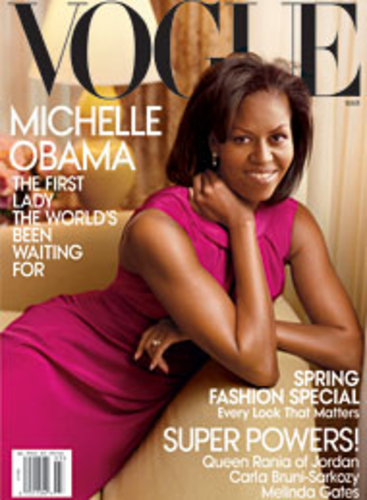 Not even the serene and polished former first lady Jacqueline Kennedy was honored with such a title from the world's most fashion forward magazine.
Our first lady Michelle Obama certainly deserves to have a mention on our site for this
cover. Newsman Jack Cafferty has "fallen in love "with her, as we get a very different view of her in comparison to the comments said now and even then when she was stumping for her husband on the campaign trail.
We as women should be the biggest supporters. Instead of trying to put an entertainer who emulates a white woman as the shero- who's only claim to fame is booty shaking, wig shaking, and $50 million dollars,(there's a whole roster of those in Hollywood) we have a woman with grace, a beauty not colored by imitation .
Women now have a role model --hopefully it will get them away from thinking that being a video vixen--or following that lifestyle, mode of dress and attitude is what they have as an aspiration and inspiration.
She just shattered all myths held by the black community--that a fine woman is light skinned, has long hair, yada-yada, in order to ? to what get a man? marry rich? we'll
right now the baddest black woman on the planet is representing a brother who has his feet firmly planted on earth, and recognizes the true beauty of a Black woman!
"What a woman thinks of women is a test of her nature"-George Meredith
Posted By: Marta Fernandez
Wednesday, March 18th 2009 at 7:39AM
You can also
click here to view all posts by this author...