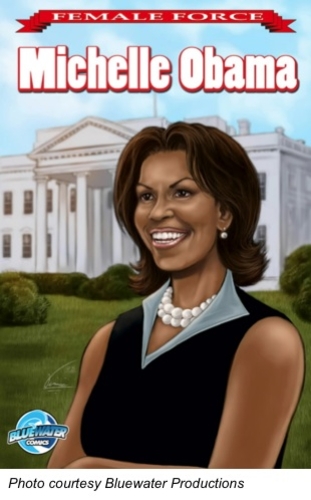 Michelle Obama has already conquered the world of magazine covers, now she's getting her own comic book!
The Chicago Tribune reports that Bluewater Productions is releasing a biographical comic book about the first lady. It will follow her life from a girl growing up in South Side Chicago all the way to up her becoming our first lady.
The comic is part of a series called "Female Force" whose previous editions featured Secretary of State Hilary Clinton and Gov. Sarah Palin of Alaska. They were released this week and reportedly flew off the shelves so fast that they're now sold out.
Publishers predict that Michelle's 22-page comic will be even more popular. The comic is slated for an April 25 release, but the demand has gotten so high that distributors have stopped taking orders so Bluewater can crank out enough copies.
"I feel like the guy who invented the Furby," said Darren Davis, Bluewater's president. "The reaction has been insane."
The comic, costing about $4.00 a copy, won't mention any controversial things Michelle said on the campaign trail. You also won't see any fist bumps (darn!) or illustrations of Sasha or Malia Obama. We know they would have looked too adorable, but Bluewater didn't want to get on Mama Obama's bad side like the Ty Inc. did.
"We wanted to be respectful to all the women in the series," said Darren. "They've really done amazing things in their lives."
-- Sonya Eskridge
Posted By: Marta Fernandez
Tuesday, March 17th 2009 at 10:31PM
You can also
click here to view all posts by this author...