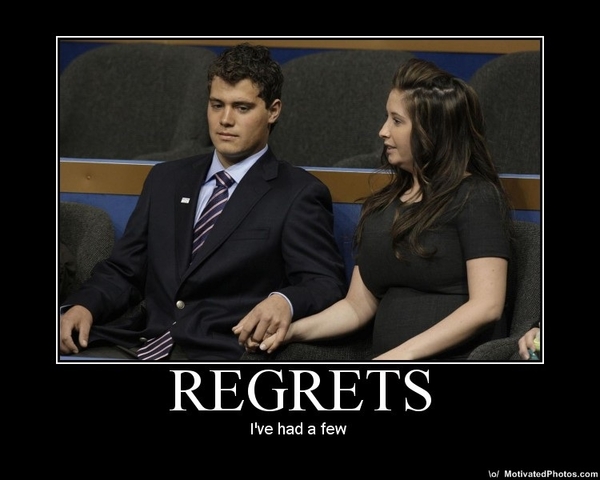 One of the most draining and enervating of all self-criticisms is regret. To regret having done anything is self defeating. Why did I do that? I should have never..What a fool I was to believe, ..
This kind of thinking is illogical and not in alignment with the Universal law of cause and effect, as well as the chapter on destiny in the Book of Life.
At the time we make decisions we weight in everything based on the experiences and knowledge we have at that time, and we do what we think is best, later on if it doesn't turn out right we punish ourselves..with remorse and self-doubt, a sure fire self-esteem damper!
Think back, if you had been able to make another decision at the time you would have. Mentally transport yourself back to the decision, you weighed the issued and decided based on what you knew then not what you know now!
Had you thought that the other choice was better you would have done it--and if you had doubts you still chose what you thought was better at that time. It's easy to be a Monday-morning quarterback, but it's a waste of energy and a focus on what one perceives as an inadequacy.
Even if we are not adequately informed to make the best decision we made it anyway, because we wanted to.
We can and should learn from our mistakes, but sometimes our mistakes are not really a mistake at all--they are a link in the chain of happenings that couldn't have happened if we hadn't made the so called "mistake."
No one is alone when they perceive they have made a mistake. Someone else is always involved . We don't make mistakes and have children, marry, accept a job offer, move or any of as I said before take action on a life changing event.
Our lives are a kaleidescope of intertwining events with other people. Each one of us is unique like the trillions of snowflakes that have fallen to earth--the only responsibility we have is to ourselves to live in the moment-to be aware -to be spirtitually grounded and know that every step we take is part of a destined and changeable future.
Posted By: Marta Fernandez
Tuesday, March 17th 2009 at 11:26AM
You can also
click here to view all posts by this author...