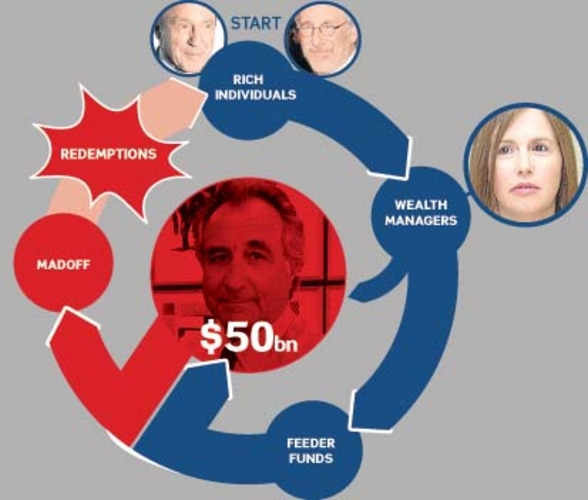 "To conceal my fraud, I misrepresented to clients, employees and others that I purchased securities for clients in overseas markets. Indeed, when the United states Securities and Exchange Commission (SEC) asked me to testify as part of an investigation they were conducting about my investments advisory business, I knowingly gave false testimony under oath to the staff of the SEC on May 19, 2006, that I executed trades of common stock on behalf of my investment advisory clients adn that I purchased and sold the equities that were part fo my investment strategy in European market."
I love it--I could have written this for him myself--This statement stops any further need for him to "give up" the partners he had, the high officials, other investment bankers, corporations, politicians,mafia gangsters, and other Jewish crooks.
The SEC can continue to attempt to uncover all the fraud but will not be able to, without his further assistance. Once he is sentenced and refuses to plea bargain they will be stuck, with a host of unanswered questions.
If he decides to plea bargain for a lighter sentence in exchange for additional information to give to the SEC, he is still in control. They don't have him, he's got them.
Read further to wit: "the essence of my scheme was that I represented to clients who wished to open investment advisory and individual trading accounts with me that I would invest their money in shares of common stock, options and other securities of large well-known corporations, and upon request, would return to them their profits and principal. Those representations were false because for many years up and until I was arrested on December 11, 2008, I never invested those funds in the securities as I had promised."
Now what? the SEC is stuck on stupid. Why ? first of all, investment managers have access to the ebb and flow of the stock market. 2. because they know exactly what is being traded and they can forecast how a trade will balloon or bust. 3. Just like we can see a multi-level marketing scam disguised as "legitimate" they can see a Ponzi (pyramid) scheme.4. they are predominantly Jewish and as such are "brothers" (as in brothers the sons of Abraham) no-- don't discount their religious commitment to one another.
The " piece de resistance" well, " I am actually grateful for this first opportunity to publicly speak about my crimes.......as I engaged in (my) fraud (notice he takes SOLE ownership,) I knew what I was doing was wrong, in other words everyone else is innocent--the great coverup--for my 2 cents? Mayor Bloomberg has got to be involved. Elie Wiesel the Jewish Holocaust survivor and hero's non-profit firm claims they lost 15,000.000, and every one else who invested who is GREEDY, because as I read a long time ago about "victims" of money fraud--their wanting to make unusually high returns on their investments, leads them to participate.
Laughing in New York City--this is the punishment for greed. You can help yourself but don't take too much..
Posted By: Marta Fernandez
Friday, March 13th 2009 at 12:51PM
You can also
click here to view all posts by this author...