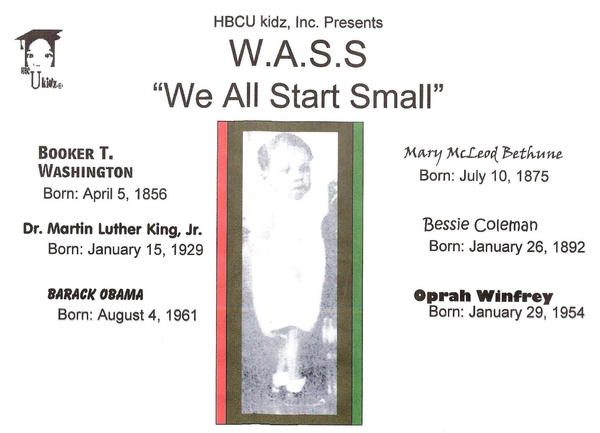 Once upon a time a baby was born ...
"I CAN DO anything even when others are afraid
I will not quit until history is made!"
Who am I?
So often it seems that people look at the end result and miss the patient process of raising an achiever in training with VISION.
Our nation's dreamers, leaders and achievers all share one thing in common. Just like U...Each individual was born with unique gifts instilled at birth!
Over the years while building HBCU kidz, Inc. I have noticed that most people seem to agree that the future for many of our children is troubling. A growing number of concerned people feel that it is important that children know that they have a culturally rich history as early as possible in their lives. This knowledge gives power to unleashing their God given gifts, talents and abilities to achieve. Yet it is often a hard topic for many parents to approach confidently. HBCU kidz, Inc. seeks to help fill the void in parents teaching babies AT HOME USING INSPIRING HISTORY LESSONS.
This entire year, HBCU kidz will provide these high quality baby memorabilia gifts and valuable parent resources to help increase awareness and support of our nation's historical black colleges and universities in 2009. As we take the time to study our history and embrace our powerful future, we shall also see that a DESTINATION HBCU has had a profound role in shaping many of our collective successes and opportunities in life. 09 W.A.S.S. is a creative and new reflection and tribute of this fact.
Education! Important GEAR for LIFE is our motto.
Visit our January and February Stories and share with all of the kidz in your life!
kidz
Baby Martin
Baby Bessie
Baby Oprah
Posted By: Joan E. Gosier HBCUkidz.com
Wednesday, February 11th 2009 at 9:53AM
You can also
click here to view all posts by this author...